Getting to Know Dr. Marc Orlando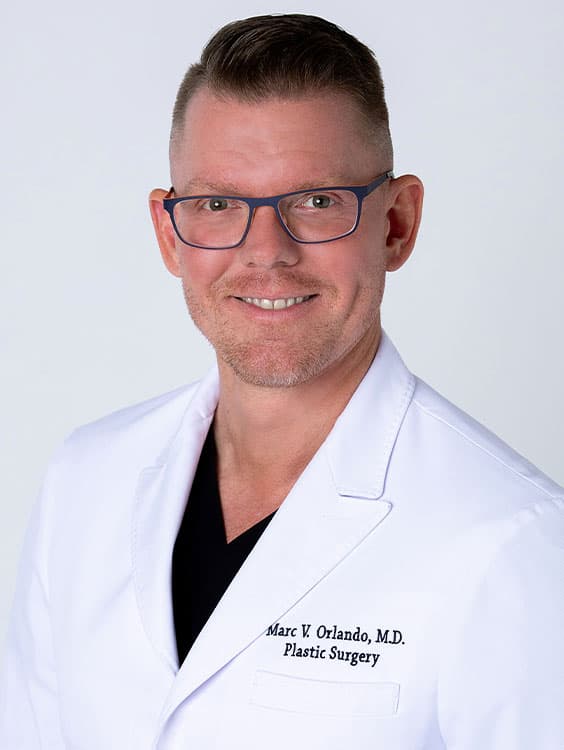 We're excited to announce that Granite Bay Cosmetic Surgery is growing! Dr. Christa Clark and our team are welcoming an incredibly skilled plastic surgeon, Dr. Marc Orlando, to our practice. He will be specializing in a full range of procedures for the breast and body. Dr. Orlando comes to us with a high level of skill and safety in the O.R., as well as many glowing patient reviews and testimonials.
To help you get to know Dr. Orlando, we sat down with him to ask about his hobbies, his educational background, and what he loves most about being a cosmetic plastic surgeon.
How would you introduce yourself if we were to meet you for a coffee or a cocktail?
I'll start from the beginning! I'm Midwestern-born, and I come from a blue-collar family. My dad came from Europe back in the 1950's, and my mom is a second generation New Yorker. They settled together in the Midwest, which is where I was born and grew up. My dad worked in the steel mills, my mom worked in the public school system, and I have an older sister. The two of us were the first in our family to receive a four-year college education. I then went on to medical school.
What do you like to do outside of work?
When I have the time, I love to travel. I enjoy spending my free time exploring the world—especially the natural world. Nature recharges me, and I embrace every opportunity to spend time outdoors. Hiking or spending time in the water—I love it all.
Additionally, I enjoy staying physically active, and partaking in the art, cultural, and food scenes.
What is your favorite place to visit internationally?
Iceland. I've traveled there several times visiting different parts of the country. Its landscapes offer something truly unique and awe inspiring. I've traveled throughout Europe, and while I'd go back there in a heartbeat, there's something magical about Iceland. It showcases so much natural beauty. I also dabble in landscape photography, and my camera is always in tow when I'm traveling. When I go to Iceland, I lose myself in nature and its culture.
Where are you traveling next?
I'm planning a trip to Japan soon. Patagonia and New Zealand are also on my bucket list.
Why did you decide to pursue cosmetic plastic surgery?
Before I started college, I was considering either medicine or studying at an art institute. I ultimately decided to pursue dual degrees in Biology and Psychology in college with the intent of ultimately enrolling in medical school.
When I started to take pre-med classes, I thought to myself, "I know I'm drawn to the arts. I need to be doing something in that realm and work/create with my hands." So I decided to shadow several surgeons in the area. One of them happened to be a plastic surgeon focused on elective cosmetic surgery.
I was in awe of the transformation on the operating room table in as little as 45 minutes. It appealed to my aesthetic eye as well as my scientific mind, and I decided to pursue plastic surgery.
What appeals to you most about the day-to-day work of being a plastic surgeon?
What I appreciate about my position is the importance of the patient-physician relationship. Plastic surgery combines both art and science, and it is also a very social profession.
After college, I took a position working in an inpatient psychiatric facility because I have always been drawn to human behavior and psychology (again, that was one of my majors in college). The experience of working alongside other medical professionals and patients demonstrated to me the importance of relationships to my job satisfaction. As a plastic surgeon, the patient-doctor relationship lays the foundation of every procedure I perform.
Skillfully and artistically performing a cosmetic procedure not only changes the patient's physical appearance, but also the way they perceive themself in a positive way. Throughout my medical training I experienced multiple surgical specialties. When I encountered plastic surgery, I thought, "Wow! This profession marries psychology and art…I am hooked!" I completed my aesthetic surgery fellowship in 2016 and cosmetic plastic surgery has been my focus since that time.
Skillfully and artistically performing a cosmetic procedure not only changes the patient's physical appearance, but also the way they perceive themself in a positive way.
What is your approach to patient consultations?
First, it is very important that your initial visit to the practice includes ample time for you and I to sit down one-on-one. We have incredible patient care coordinators and I have confidence that you will enjoy working with them. However, your primary consultation occurs with a surgeon who will answer all of your questions in a professional and focused manner to determine your surgical candidacy.
During the initial consultation, our time together is best spent discussing your surgical expectations. If I am able to help achieve those goals, I will partner with you in an effort to do so. As with any relationship, honesty is very important to the flow of communication. If I feel that I am unable to meet your needs or effectively collaborate with you, I will have that conversation with you.
I take a 'we can do this' approach to every patient. This includes educating you on not only my surgical technique, but how you, as the patient, can promote an early and healthy recovery process. By giving you my undivided attention, we will work together as a team to achieve your goals in a highly collaborative and rewarding process for both of us.
Do you have a favorite procedure to perform?
I enjoy many procedures, but one of the more popular ones in which I have come to specialize is liposculpture and fat grafting to the buttocks, more commonly known as Brazilian butt lift, or simply BBL. The BBL involves strategic liposuction for sculpting the waist and frame of the buttocks with gluteal enhancement using the person's own fat. The procedure's popularity led to some unsafe practices, and even unqualified individuals performing them. As a result, poor outcomes and even deaths have stigmatized it as a dangerous, disfiguring, or even deadly operation. However, after having a proper consultation with an experienced, well-trained, and credentialed plastic surgeon, this procedure is genuinely very safe and beautifully transformative.
Schedule your consultation with Dr. Marc Orlando at Granite Bay Cosmetic Surgery
Dr. Marc Orlando offers a full range of body procedures, mommy makeovers, and breast procedures at our Granite Bay office and surgical center. To learn more and schedule your consultation today, call (916) 242-2662 or contact us online.