Implant Exchange Surgery in Granite Bay
Previous breast augmentation needs improvement? We'll help you get it right this time.
Thousands of women in the Sacramento area have breast augmentation each year; most are crazy about their results. But from time to time, subpar surgeon skill, poor healing, or other unpredictable issues can result in breasts that just don't look or feel the way you hoped. A totally discouraging situation since you sought surgery in the first place to improve your look.
What if I just want larger or smaller implants?
That's a perfectly good reason to consider breast revision. In fact, most revision procedures are performed for aesthetic reasons.
Want larger implants? Our surgeons will help you understand what degree of size increase will help you boost your cup size safely and still look natural.
Want smaller implants? They'll explain your options, which may include a breast lift to help you retain a natural breast shape and remove excess skin so your new, smaller breasts won't sag.
Want to swap saline for silicone? Our surgeons help many patients do just that. If you have older saline implants, switching to silicone can help you enjoy a softer breast with lower risk of rupture.
Get a totally natural look with breast implants
Check out implant options
Contact us today to schedule your personal consultation complete with implant sizing session
What complications can revision surgery treat?
Our plastic surgeons can perform breast revision surgery to remove and replace breast implants, excise problematic scar tissue, or revise the shape and location of the implant pocket to correct a problem and improve upon your current augmentation results.
Capsular contracture. Thickened scar tissue that contracts around the implant, skewing breast shape and resulting in a hard, sometimes painful breast.
Double bubble. The implant sinks below the natural bottom fold and creates a small "pouch" beneath the breast.
Bottoming out. The implant settles too low in the breast, causing the nipples to appear unnaturally high.
Symmastia ("bread loafing"). Implants sit too close together, often touching in the middle.
Too-wide cleavage. Implants are placed too far to the outside, creating an unnaturally wide gap.
Rupture/deflation. One or both implant shells break, possibly causing a misshapen breast (or deflating entirely, in the case of a saline implant rupture).
Implant rippling/visible edges. Implant has insufficient tissue coverage, leading to visible wrinkling in the breast (more common with saline implants placed over the muscle).
Trust our surgeons for a natural look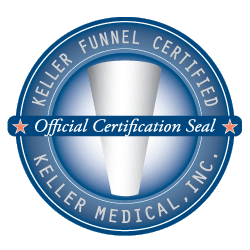 Our plastic surgeons understand how important it is to feel comfortable and confident in your own skin. With years of experience with breast revision procedures, a no-compromise approach to safety, a highly qualified surgical team, and a focus on providing top-notch results, our doctors take your needs seriously. But you don't have to take our word for it—see what our patients have to say.
What is breast implant removal surgery like?
Breast implant removal surgery is somewhat similar to breast augmentation in reverse. More often than not, your surgeon can remove implants using your initial breast augmentation incision sites, so you won't have scars in additional places. Your procedure will be performed under general anesthesia to ensure your comfort.
If your surgeon needs to address issues such as capsular contracture, double bubble or malposition, they may also need to repair or remodel the capsule (scar tissue surrounding your implants) during surgery. If you're having implants removed completely, you may need a breast lift as well to prevent sagging and ensure a firm, attractive breast shape if you had larger implants or if your skin has stretched.
Recovery for breast implant revision is typically similar to recovery after initial breast augmentation, although many patients bounce back even more quickly than they did the first time around. However, if extensive revision is needed during surgery, you may have a slightly longer recovery. your doctor will explain in detail what you might expect given your needs, anatomy, and goals at your consultation.
What should I do if my saline breast implant deflates?
First, don't panic. The saline solution will be safely absorbed by your body. The silicone shell will not cause any harm if left in even for a few weeks. Next, call us! Our surgeons understand that the rather rapid breast asymmetry resulting from a deflated implant can cause emotional distress, and we will get you on their calendar as soon as possible for a consultation. At this appointment, they will explain your options for removing and replacing the ruptured implant, including the possibility of upgrading to a new highly-cohesive silicone implant.