Breast Augmentation Recovery
It's normal to be nervous about the recovery process—and it helps to know what to expect. By and large, our breast augmentation patients experience a shorter, smoother, and more comfortable recovery than they expected. Take care of yourself and follow your surgeon's pre-op and post-op instructions, and you'll be back in motion really quickly.
How will I feel after surgery?
Most patients describe more discomfort than pain the first few days after breast surgery. You'll feel tight and swollen around the chest and experience some degree of soreness; this will be more pronounced if your implants are placed below the muscle. Your doctor will prescribe pain medication to help, but many patients find they need this only for a couple of days at most.
When can I go back to…?
Showering: about 7 days after surgery ("bird baths" avoiding the breasts only. Sorry….but it's worth it, we promise)
Work: 5 to 7 days after surgery for a desk job; longer for more physical work
Driving: when you're finished taking prescription pain medication and can drive comfortably; typically within 1 week
The gym: depends on what you're doing there; walking on the treadmill is okay after a week or so; chest exercises are a no-go for about 4 to 6 weeks
Swimming: due to heightened risk for infection, stay out of the pool or lake for at least 1 month
Wear underwire bras: depends on your incision location; about 6 weeks for inframammary incisions, less for peri-areolar incisions
Do anything I want to: everyone's a little different, but most patients get the all-clear by 6 weeks after surgery
When will I see final results?
The Scoop
the
scoop
»
All the key facts you need
Your breasts will be bigger immediately after surgery, but they will also be swollen, probably a little uneven, and sit higher on the chest than you might expect. Don't judge your breasts for at least the first month after surgery!
Everyone's a little different, but it can take around 3-6 weeks for swelling to entirely subside, your breasts to soften fully, and your implants to settle into their final position. You'll look great after just a few weeks, and by 3 months or so post-op, you'll look fabulous.
Your surgeon's techniques make a big difference in your recovery
Want a quick and easy recovery after breast augmentation? First, make sure you're healthy before signing up for surgery. Then, choose an experienced plastic surgeon who specializes in breast augmentation techniques that minimize tissue trauma and scarring.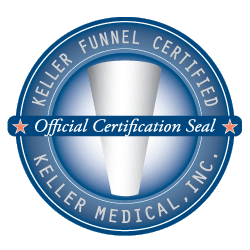 The Granite Bay Cosmetic Surgery doctors have performed thousands of procedures and are trained in advanced techniques that minimize bruising and create smaller scars. They use the Keller Funnel, a device that allows them to place implants precisely without directly handling them during surgery. This minimizes tissue trauma, allows for shorter incisions, and reduces the risk for infection and other post-op complications.