Incision Options for Breast Augmentation
Our surgeons primarily uses two incision techniques during breast augmentation (you may require additional incisions if you're having a breast lift as well). Both incision techniques leave discreet scars that are difficult to detect once healed, as long as you follow your doctor's post-op care instructions.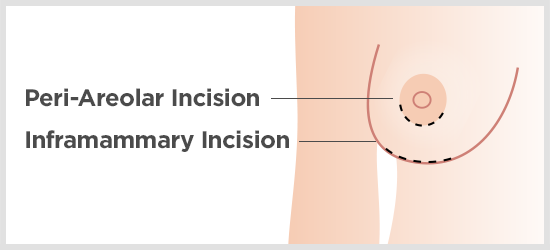 Option #1: Inframammary Incision
This is the most common incision technique our doctors use during breast augmentation. It involves a short, horizontal incision located in the natural fold underneath your breast. It's hidden from view by the breast itself, as well as any swimsuit or bra.
Option #2: Peri-areolar Incision
An alternative technique we occasionally use is the peri-areolar incision. For this we makes an incision that traces the outer edge of the areola. Once healed, the scar is camouflaged by the naturally darker skin of the areola and easily concealed by a bra.
How do our surgeons determine which incision technique to use?
Several factors go into the mix to determine incision type: what implant size and type you're getting, your anatomy, and what your doctor feels will produce the most natural result. Your doctor will discuss the pros and cons of each incision choice as they apply to you at your consultation.
Save