Breast Lift with Implants
Get your best breasts yet with a classic procedure combo
Breast implants are great for boosting size, but if you're dealing with sagging too, you'll need to remove extra skin and reshape the breast for a natural result. Combining breast augmentation and breast lift surgery can help you go up a cup size or two and correct sagging to improve breast shape, position, and symmetry, often in a single surgery and recovery.
Before & After
See Our Patient Results & Mark Your Faves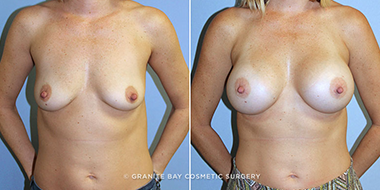 How do I know if I need implants with a breast lift?
While implants can add back lost breast volume, they're not going to lift your breasts higher on the chest. If your nipples currently rest below the level of your inframammary fold, you will likely need a breast lift to get a natural result.
Other reasons to consider a breast lift with implants:
You were happy with your breast size before (i.e, pre-baby), but now your breasts are deflated and droopy. A lift with implants can restore breast volume and provide the firmer, lifted breasts you want.
You want a fuller look in the top portion of the breast. A lift alone usually creates a sloping breast, so if you like a round, full look, implants may be the way to go.
Get a totally natural look with breast implants
Check out implant options
Tell me about the surgery and recovery
A breast lift with augmentation can usually be done in one surgery, using the appropriate breast lift incision pattern. Occasionally, it's best to separate the breast lift and augmentation into two operations. Your surgeon will explain the best route for you to take.
Read about recovery for breast lift surgery—your experience will be similar when you combine procedures. Also look at what breast augmentation recovery entails; you'll undergo the same process of implant settling before your final results are apparent.
How long will the results last?
Get ready to love your breasts for many years. Our surgeons use advanced surgical techniques that provide internal support to the breast for a lasting result, and while implants are not lifetime devices, they can last for decades. Maintain your weight and wear a good bra, and your look will last. Over time, you'll probably experience some sagging (aging happens), but to a much lesser degree than you would if you hadn't had surgery.
One thing—consider putting off surgery until you are finished having kids. While it's safe to get pregnant if you have breast implants, hormonal changes to the breast tissue will likely compromise your results.
Choosing our plastic surgeons
At Granite Bay Cosmetic Surgery, we understand how important it is to feel confident in your appearance. From day one, we makes it out personal mission to help you love your look. Specializing in breast procedures, our doctors take safety seriously, using advanced surgical techniques like the Keller Funnel to achieve a natural result with shorter scars and a faster recovery.
Have more questions? Come see us for a personal consultation. Our surgeons and staff will tell you everything you need to know to get started on your new look.