Granite Bay Eyelid Lift
A tried-and-true solution to restore a more open, refreshed look to your eyes
When you're awake, well-rested, and alert, you have a right to look awake, well-rested, and alert! So, if sagging skin on your eyelids is causing you to appear half-asleep all day long, we understand your frustration. We can also help end it.
Cosmetic eyelid lift surgery (a.k.a blepharoplasty) removes sagging skin and repositions fat and muscle around the eyelids to restore a more youthful, refreshed look. Our surgeons apply their advanced training and years of experience to ensure your eyes look totally natural after surgery—and much better.
Before & After
See Our Patient Results & Mark Your Faves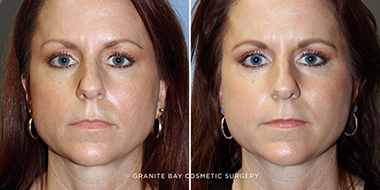 How eyelid surgery can help
If you lead a healthy lifestyle and get plenty of sleep, but still have a chronically tired appearance to your eyes, chances are it's caused by excess, sagging skin on your eyelids. Eyelid surgery corrects these issues, allowing you (and the world) to see the real you, not the "gee, you look tired" you.
Our doctors specialize in upper eyelid lift surgery, which involves removing excess, sagging skin and sometimes excess fat to restore a more natural shape and open look to the eyes. Goals include:
Refine definition to the upper eyelid crease
Correct a heavy, hooded look to the upper eyelids
Restore a more open, alert appearance to the eyes
Improve vision if sagging skin is obstructing your sight
What to expect with eyelid lift surgery
The Scoop
the
scoop
»
All the key facts you need
Our surgeons perform eyelid lift procedures at our private, on-site surgery center. Depending on procedure specifics, you may have general anesthesia or local anesthesia with sedation.
Incisions are placed inconspicuously under the lash line or in the eyelid crease—once healed, no one will know you had surgery. Expect a 2 to 3 hour procedure, and then you can go home to rest and recover. Get more info on eyelid lift recovery »
Trust our surgeons for the natural result you deserve
Eyelid surgery is a procedure that requires skill and nuance for a natural result—tiny changes can make a big impact on your appearance. Fellowship-trained in facial and aesthetic plastic surgery, our surgeons have the experience, and highly-developed artistic skill needed to achieve a natural result. With a no-compromise approach to safety and a highly qualified team assisting them, our doctors take your results and well-being seriously.