Meet Dr. Haley Bray
Skilled, passionate facial plastic surgeon in Granite Bay, CA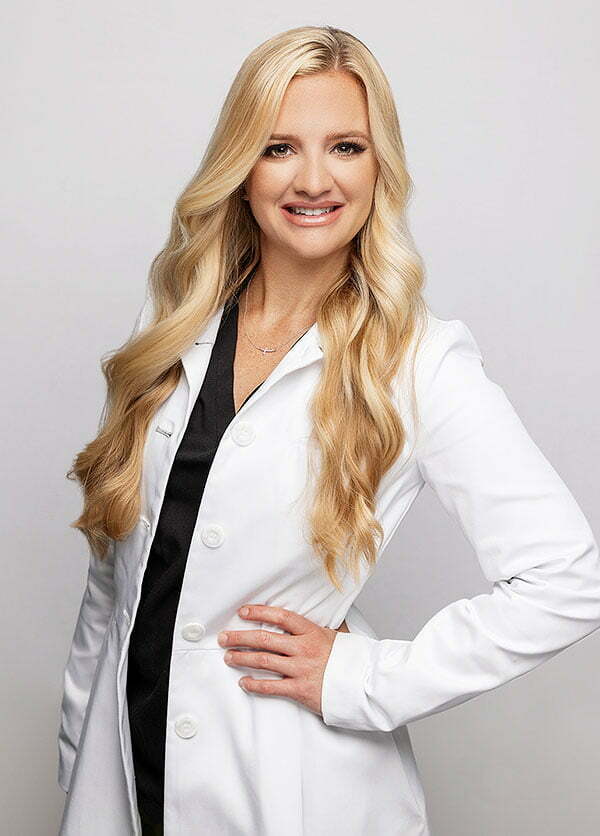 Haley Bray, MD believes that an individualized approach is key to safely achieving beautiful facial plastic surgery outcomes. Fellowship-trained in revered Roseville and Beverly Hills practices, she has a keen eye for balancing facial structure as well as meticulous skill needed to deliver nuanced results.
Schedule a personal consultation with Dr. Bray and you'll experience a warm conversation where you can freely share your wishes and concerns. Dr. Bray starts by forming a personal connection with you, taking time to understand your goals in depth. She will then customize a treatment plan including appropriate treatment modalities and thus help you to achieve the pinnacle aesthetic results you deserve.
"Connecting with my patients is so important to me. Being a female, I empathize with my patient's desire to make improvements and guide them towards treatment options that will make them feel confident in who they are, achieving results that showcase their natural beauty while preserving the form and natural facial function." –Dr. Bray
Facial plastic surgery & rejuvenation with Dr. Bray
Dr. Bray offers a complete selection of facial plastic surgery procedures at Granite Bay Cosmetic Surgery—all performed in our fully accredited, on-site surgical facility—including:
Facial feminization
Otoplasty (ear pinning)
Brow lift
Hairline advancement/forehead shortening
Chin augmentation (implants and reduction)
Fat transfer (to face)
Submental liposuction
Mole removal
Scar revision
Dr. Bray also offers a number of proven non-surgical facial treatments such as:
Neuromodulators (Botox, Dysport)
Dermal fillers
Chemical peels
Laser skin resurfacing
Sculptra
Kybella
Microneedling
Thread lift
With her background in otolaryngology and advanced training in cosmetic facial plastic surgery, Dr. Bray has the specialized, in-depth knowledge of facial structures and tissues to achieve results that appear remarkably natural.
Advanced Education, Training, and Experience
Dr. Bray graduated Summa Cum Laude from the University of Missouri-Kansas City School of Medicine before completing a 5-year residency with the Department of Otolaryngology-Head and Neck Surgery at Saint Louis University. During her residency, Dr. Bray also completed an International Facial Plastic Surgery rotation in Madrid, Spain.
Following her residency, Dr. Bray pursued a Facial Plastic and Reconstructive Surgery fellowship in Roseville and Beverly Hills which allowed her to refine and build upon her surgical skills, focusing entirely on facial plastic surgery procedures.
Additionally, Dr. Bray has played an integral role in several medical research studies and her work has been published in the International Journal of Pediatric Otorhinolaryngology and JAMA Otolaryngology–Head & Neck Surgery. Dr. Bray is currently a part of on-going research on non-surgical rhinoplasty (nose reshaping).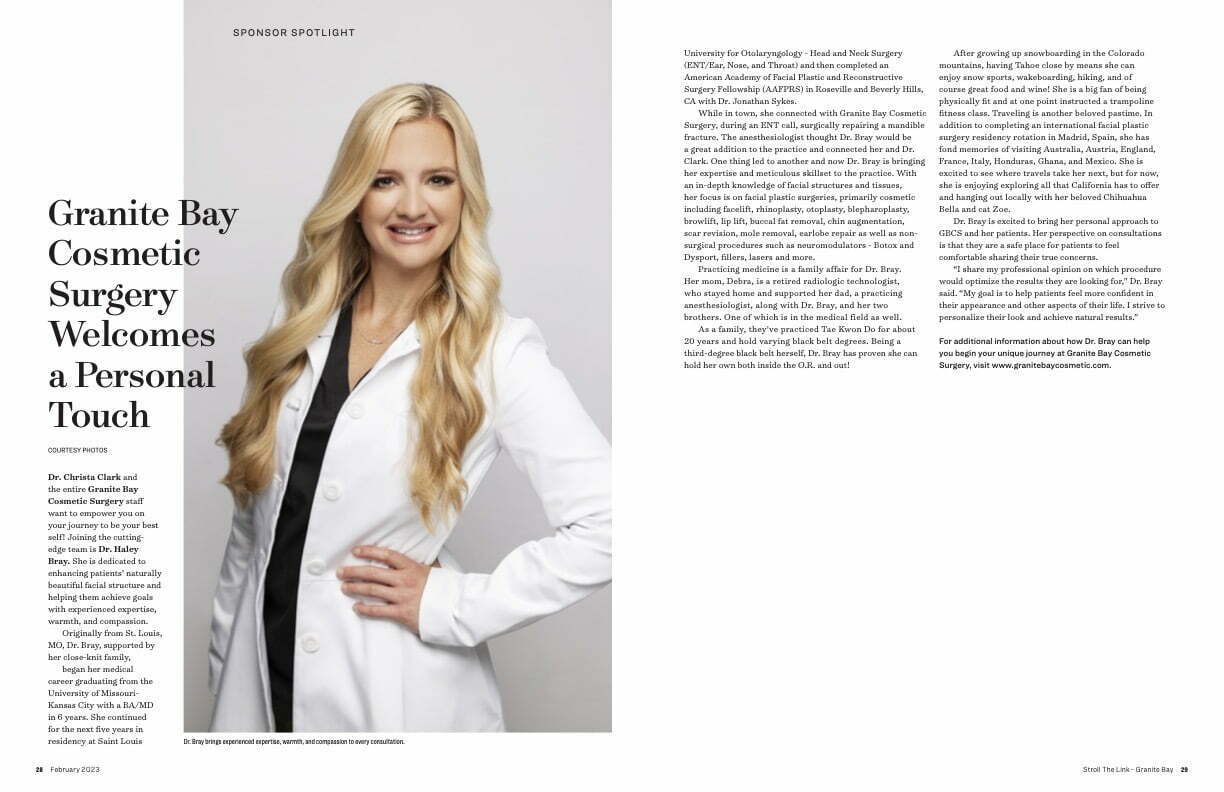 Qualifications & Professional Associations
Dr. Bray holds herself to the highest standards of patient care and is dedicated to staying abreast of the latest advances in facial plastic surgery. She is an active member of the American Academy of Facial Plastic and Reconstructive Surgery (AAFPRS) and is currently pursuing certifications for the American Board of Otolaryngology—Head and Neck Surgery (ABOHNS) and the American Board of Facial Plastic and Reconstructive Surgery (ABFPRS). Dr. Bray holds medical licensure in California.
Outside of the O.R.
When Dr. Bray isn't performing transformative facial plastic surgery procedures or contributing to medical research, she enjoys just about any outdoor activity California has to offer, including hiking, paddle boarding, wakeboarding, surfing, and snowboarding. As a newer California resident, she is thrilled with our diverse cuisine options and delectable local wines.
An avid traveler, Dr. Bray enjoys exploring destinations near and far, including local favorites such as Napa and Tahoe, as well as stamping her passport in Spain, Italy, and Australia—ask her about her bucket list which includes many other countries.
Dr. Bray values time with her family most of all, whether it's curling up with Zoe, her calico cat, or Bella, her chihuahua. When she's not romping around with her fur babies, you can catch Dr. Bray on the mat—she's a third-degree black belt in Taekwondo! A 20-year (and counting) tradition, Dr. Bray and her whole family enjoy practicing Taekwondo—talk about a lively family gathering!
Dr. Bray, in her own words
"I truly believe that facial plastic surgery is a calling. Prior to medical school, I considered several plastic surgery specialties. During my residency, I came to love the complex anatomy and pathology of the head and neck. I actually completed a month-long rotation in Spain performing rhinoplasty alongside father and son facial plastic surgeons and that experience solidified my desire to work exclusively as a facial plastic surgeon. I was immediately drawn to the artistic side of how you can refine and reshape the face and neck to bring balance and harmony.
To me, facial plastic surgery is not about making my patient look like someone else, but how I can enhance their unique beauty and minimize the concerns that may be holding them back from feeling 100% confident in themselves.
Being a part of someone's journey to becoming who they want to be is humbling and exciting at the same time. I view consultations as a safe place for my patients to be completely open and honest about what bothers them and what they would love to see improved. Once I understand their goals and concerns, I can share my professional opinion on what procedure would optimize their results and what I can do to personalize their look."
To schedule your personal consultation with Dr. Bray, contact us today!