Granite Bay Mommy Makeover
Personalized procedures to help you bounce back with confidence
Lots of us here at Granite Bay Cosmetic are moms ourselves. We know how pregnancy and childbirth can change your body. We also get that not all of these are changes you'd like to keep. Deflated breasts, stretched abs, sagging skin—these can lead to sagging confidence, especially since diet and exercise often do little to reverse these effects. We're here to help.
Our surgeons specializes in mommy makeovers—personalized cosmetic surgery plans designed to restore your breasts and body to the shape and proportions you enjoyed pre-baby (or even better!).
Why have a mommy makeover?
We get it. As a mom, you're busy making sure everyone else is happy and healthy. But a confident mom is the best role model your kids can have. If you're unhappy with your breasts or body, making the improvements you desire can have lasting, positive benefits.
A mommy makeover can help you get:
perkier, fuller, and firmer breasts,
a flatter, smoother tummy
sleeker, more youthful body proportions
a big boost in confidence!
Not only will clothing fit more comfortably, but you'll have more options when it comes to finding a flattering fit.
Before & After
See Our Patient Results & Mark Your Faves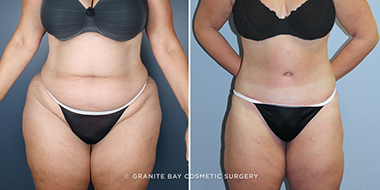 What procedures are included in a mommy makeover in Granite Bay?
Our surgeons tailor your mommy makeover to your body and your goals; there's no "standard" mommy makeover. While many patients have similar procedures, our doctor adjust their techniques to ensure your results look natural and meet your expectations.
Your mommy makeover might include one or more of the following procedures:
When is the best time to have a mommy makeover?
It's best to wait until you're finished having kids—getting pregnant after a mommy makeover is safe but will affect your results. You also need to wait until you've finished breastfeeding and your OBGYN agrees it's safe to undergo surgery. Then, it's up to you. We have mommy makeover patients in their 20s with toddlers as well as 50+ empty-nesters.
Keep in mind—no lifting is allowed during initial recovery. If you have small children, you will need childcare help for up to 6 weeks or longer. More on mommy makeover recovery »
Trust our plastic surgeons for a great mommy makeover experience
With years of experience performing breast and body cosmetic surgery, our surgeons understand that having a mommy makeover isn't just about looking better; it's about feeling like yourself again. Our mommy makeover patients say they immediately feel at ease with our doctors because they relates to their needs in a personal way and have the skills to achieve their goals. They want you to love the way you look, plain and simple. With a superb surgical team, advanced scar-minimizing techniques, and a state-of-the-art private operating facility, our plastic surgeons take your safety and health seriously. Just read what our patients have to say »