Liposuction in Granite Bay
Still the #1 procedure to lose fat & sculpt beautiful body contours
Even with new technology promising to help you sculpt a better body, liposuction still remains the most popular cosmetic surgery procedure in the U.S. Why? Because it's the only procedure where a skilled plastic surgeon can sculpt away just the right amount of fat to create a smoother, slimmer shape that enhances your natural proportions.
Before & After
See Our Patient Results & Mark Your Faves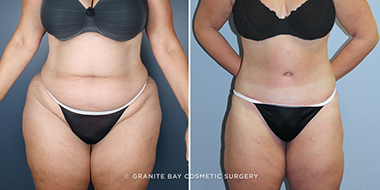 Is liposuction right for me?
The Scoop
the
scoop
»
All the key facts you need
If you take care of yourself, eat a healthy diet, and exercise, you want the body to show for it. Unfortunately, most of us have unwanted fat deposits that seem impossible to address through diet and exercise.
Liposuction removes excess fat in specific areas, helping to create that smooth, slim, and natural look you want. You'll get the most benefit if:
You're at a healthy, stable weight
You have good skin elasticity (check out a tummy tuck for stretched belly skin)
You have specific pockets of fat on your face, arms, legs, or body that bother you
You want to reshape an area and lose stubborn fat
Contact us today for a personal consult with Dr. Clark
Liposuction with Dr. Clark is a safe procedure that leaves tiny, barely visible scars. It's also incredibly versatile. She can treat tiny fat pockets and larger regions alike. Common places our patients have liposuction include:
Inner or outer thighs
Hips & flanks (lovehandles)
Abdomen & lower back (i.e., muffin top)
Male chest (see male breast reduction for more info)
Under the chin
Knees, calves, & ankles
Skilled artistry = great liposuction results
Looking for a skilled plastic surgeon who has the experience to achieve results that look natural and totally meet your goals? Trust Dr. Clark. With 10+ years of experience in body contouring surgery and advanced training in aesthetic procedures, she gets that what you want most is to feel totally confident in your appearance. With Dr. Clark and our expert surgical team, your safety is priority #1. Come check us out at a personal consultation with Dr. Clark.  In the meantime, see what our patients have to say »