Male Breast Reduction in Granite Bay
Effective gynecomastia treatment that's helped 1,000s of men lose the "man boobs"
Having "man boobs" can be embarrassing and uncomfortable for men. It's a legitimate condition called gynecomastia, and it's more common than many people realize—around 1 in 4 men are estimated to have gynecomastia.
Despite it's prevalence, men who are bothered by enlarged breast tissues often feel singled out—buddies tease them about it, and many go out of their way to avoid taking off their shirts in public. "Man boobs" shouldn't keep any man from enjoying life with confidence. Male breast reduction surgery can restore a firmer, flatter and more masculine chest shape during a single outpatient procedure.
Male breast reduction gets results
Certain medications can cause gynecomastia, but usually there's no known cause. Eating right and working out doesn't always take care of the problem—it's frustrating. Male breast reduction surgery works. It removes the excess fat, glandular tissue, and skin, helping a man get effective, long-lasting results.
The benefits are more than aesthetic; this commonly requested procedure can elevate a man's self-confidence, helping him perform better professionally and enjoy personal relationships more fully.
Before & After
See Our Patient Results & Mark Your Faves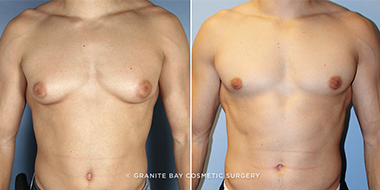 Am I a good candidate for male breast reduction?
You don't have to fit a certain mold to qualify for male breast reduction surgery, but you will benefit most if you agree with one or more of the following:
Your breasts are unusually developed for a male
You have enlarged or puffy nipples
You've recently lost weight, but you still have excess skin or other tissue left in your chest area
Your enlarged breasts are interfering with your self-confidence
You are at a healthy, stable weight
What's involved in gynecomastia treatment surgery?
Our plastic surgeons determine their surgical technique based on your size, the type and amount of tissue to be removed, and your goals. The general options are:
Liposuction only
Direct tissue excision
A combination of liposuction and tissue excision
General anesthesia is provided by a board certified anesthesiologist, and takes place in our private surgery center. Patients go home shortly after surgery wearing a compression vest. Learn more about male breast reduction recovery »
Why choose our plastic surgeons?
Looking for an experienced, plastic surgeon in the Sacramento area with advanced training, proven skill, and extensive experience? Look no further. Our plastic surgeons have been performing male breast reduction procedures for years.
As breast and body specialists, they takes the time to understand your goals and applies their surgical skill to achieve results that look natural with your proportions. Add to that an elite team of surgical support staff and a no-compromise approach to safety, and you have a surgeon you can trust for a superb experience and excellent results. Just ask any of our happy patients »