Granite Bay Vaginal Rejuvenation
Restore comfort & confidence with this all-in-one, 100% non-surgical feminine rejuvenation treatment
Do you pee a little when you sneeze? Avoid having sex with a partner you love because it just isn't comfortable anymore? Dread wearing form-fitting clothing due to sagging "down there"? Sooner or later, many women will answer yes to one or more of these questions. You do not have to live with that answer.
Femi laser vaginal rejuvenation can help you restore tightness and tone, alleviate common problems such as painful intercourse and mild incontinence, and enjoy more carefree, satisfying intimate experiences.
A great option for women at any stage of life, Femi treatments with our "down there" doctors are safe, effective, and 100% non-surgical. Plus, it can be your sexy little secret—no one else has to know what you did to feel so great.
What is FemiLift?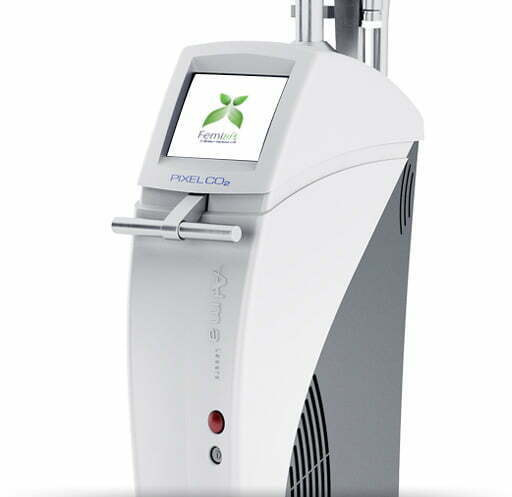 FemiLift by Alma® Lasers is an FDA-cleared, non-surgical treatment that tightens and tones vaginal tissues using controlled CO2 laser technology. By delivering pulses of laser energy through the vaginal wall, FemiLift prompts tissue contraction and collagen rebuilding to help the vaginal wall become thicker and stronger.
In real-life terms, FemiLift can make your life more comfortable and enjoyable, helping to:
Reduce vaginal dryness
Improve sensation during sex for you and your partner
Alleviate painful intercourse
Relieve stress urinary incontinence
Enhance your self-confidence and quality of life
Why choose FemiLift treatment in Granite Bay?
Our plastic surgeons understand the effects that childbearing and aging can have on a woman's body, and carefully select treatments that have proven to be safe and effective.
Here's why our doctors believe Femi non-surgical feminine rejuvenation is a great choice:
It's 100% non-surgical, painless, and takes 15 minutes to perform
Many patients experience improvements in tightness and tone days after their first treatment
Results can be achieved in 3 treatments, spaced 1 month apart
Results can last up to 1 year or longer; annual touch-up treatments can maintain results for several years
FemiLift can be used safely and effectively in women of all ages, before or after menopause
Contact us today to schedule your personal consultation
What to expect with a FemiLift treatment
The Scoop
the
scoop
»
All the key facts you need
FemiLift treatments are performed during a quick office visit at Granite Bay Cosmetic Surgery, in one of our private, comfortable treatment rooms. For FemiLift, a long, thin test-tube shaped device is inserted into the vagina, where pulses of laser energy are delivered in precise, controlled amounts.
Femi treatments are painless, and you'll be able to resume all activity immediately after treatment—just hold off on sex for 3 days. Side effects are uncommon, although some patients experience mild spotting or cramping for a few hours after treatment.
For most patients, we recommend a series of 3 treatments, spaced one month apart. You'll notice a difference after your first treatment, and results will get better with each subsequent treatment.
FemiLift vs. labiaplasty
We love FemiLift (and so do our patients), but it's not the right solution for every problem "down there." It's best for treating internal vaginal tissues. However, if you have significantly overlarge, asymmetrical or misshapen labia, a surgical labiaplasty may be most appropriate—read all about labiaplasty here.
We'll will help you understand your options based on your concerns, goals, and anatomy during a personal consultation at Granite Bay Cosmetic Surgery.
Want your own sexy little secret?
Our plastic surgeons are here to help. Call 916-262-2442 to schedule your personal consultation for FemiLift or contact us using the quick and easy form below.