Granite Bay Breast Reduction Surgery
Carrying around excess weight is never easy, but when that weight is in your breasts, it can literally be a pain. Back, neck, and shoulder pain, indentations in your shoulders from bra straps, and chafing are just the beginning. Unwanted attention, inability to find sports bras that work—it just doesn't seem right that your life should be limited by the size of your breasts.
How can breast reduction surgery help?
If having large breasts interferes with your ability to do the things you want to do (and wear the clothes you want to wear), breast reduction surgery can restore your freedom to live life without making compromises based on your breasts. Each patient has her own reasons for wanting a breast reduction, but one common goal is to feel better about their bodies: more confident, more comfortable, and more like themselves.
Here's what a breast reduction could do for you:
Immediately reduce or eliminate back, neck, and shoulder pain caused by heavy breasts
Give you smaller, rounder, and perkier breasts with your nipples facing forward (not hanging down)
Alleviate skin irritation and chafing caused by a bra that cannot support your breasts
Make running, dancing, swimming, and a slew of other activities fun again
Allow you to wear the clothing you want, because it will finally fit the way it's supposed to!
Correct significant asymmetry
Let you get on with life without thinking about the problems your breasts cause every day
Contact us today for a personal consultation with our surgeons
Before & After
See Our Patient Results & Mark Your Faves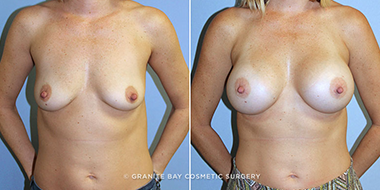 What is breast reduction surgery like?
Our surgeons perform the procedure in our fully accredited private surgery suite. You'll be under general anesthesia, administered by a board certified anesthesiologist, for your comfort. Using the anchor incision technique, your doctor will:
Remove excess breast tissue, fat, and skin
Move the nipple/areola complex higher and more forward-facing on the breast
Reshape the remaining breast tissue to improve shape and symmetry
Close your incisions with layers of sutures to provide long-term support to your new breast shape.
Our surgeons will sometimes perform liposuction on the underarms/outer chest to achieve a beautiful, natural breast shape). Questions about recovery? Here's the gist.
Will I be able to breastfeed after breast reduction?
Many women successfully breastfeed after breast reduction; some have difficulty. Whenever possible, our doctors keep the milk ducts intact when moving the nipple/areola complex higher on the breast to help preserve ability to breastfeed. However, very large breast reductions may require a "free nipple graft," which totally removes the nipple/areola complex to relocate it. Learn more about breast reduction incisions »
If you're concerned about breastfeeding after breast reduction, tell your surgeon at your consult. They'll gladly explain how the procedure may or may not affect your ability to breastfeed.
Choosing our surgeons for your breast reduction
The Scoop
the
scoop
»
All the key facts you need
Our plastic surgeons are passionate about helping women feel comfortable and confident in their bodies. With years of experience performing breast enhancement procedures, an ability to understand their patients' needs, and a no-compromise approach to patient safety, our doctors put your well-being first. Plus, our patients love their results. See what a few of them have to say »