Juvéderm® Injections in Granite Bay
A fabulous filler that's loved the world over for quick, downtime-free treatment & naturally smooth results

Sometimes life's not fair. Extra "volume" appears so easily in some areas as we age, yet somehow we lose desirable volume in our faces. This can result in thinning lips, hollow cheeks, and creases around the nose and mouth.
While we haven't yet figured out how to stop the aging process, we can outsmart many of its visible effects. One of the smartest tools we have is Juvéderm, and injectable filler that can smooth out wrinkles and plump facial features for up to 1 year or longer.
Contact us today to schedule your treatment time.
How Juvéderm can help
The wrinkles you get around your lips, nose, mouth and cheeks are largely caused by facial volume loss. Juvéderm is a thick, smooth gel that's injected underneath the skin to replace volume and fill out creases. The gel feels natural under your skin and the rejuvenating effects last about 6 to 12 months on average. Consider Juvéderm if you're bothered by:
Nasolabial folds (creases around the nose and mouth)
Smile lines, marionette lines, or parentheses
Vertical lip lines
Thinning lips
Hollowed cheeks
Lines under the eyes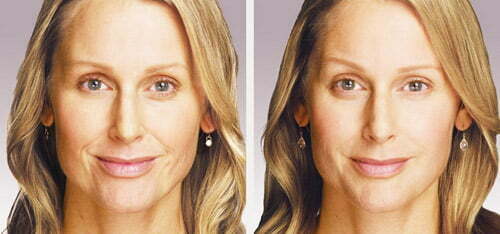 Which type of Juvéderm do I need?
Juvéderm comes in a few different formulas, each an all-star for a different area of the face. Since they're all called "Juvéderm (something)" it can get confusing to know which formula is which just by looking at the name. Let's straighten it out now:
Juvéderm XC is the "classic" Juvéderm we use to smooth lines around the nose and mouth, such as laugh lines, marionette lines, or "parentheses."
Juvéderm Ultra XC is excellent for plumping the lips.
VOLLURE XC is the newest version of Juvederm, perfect for moderate to severe nasolabial folds. It incorporates VYCROSS technology to create a gel that's a tiny bit firmer (although still soft and pliable) and lasts up to 18 months.
VOLBELLA XC smoothes vertical lip lines and gives a subtle lip enhancement. It also uses VYCROSS, which blends large and small hyaluronic acid particles to provide volume while spreading optimally into tiny lip lines. Learn more about VOLBELLA XC » 
VOLUMA XC is a thicker consistency gel that's made for lifting and volumizing cheeks. Learn more about VOLUMA XC »
We ♥ Juvéderm, but you've got loads of other filler options too. Check out other dermal fillers we offer at Granite Bay Cosmetic »
What to expect with Granite Bay Juvéderm treatments
Our Registered Nurse Injector performs Juvéderm injections during a quick office visit at our Granite Bay cosmetic surgery center. She has years of experience performing injectable treatments, and will help you decide if Juvéderm is the right filler for you.
After confirming your treatment plan with you and your surgeon, she'll give you a topical numbing agent (i.e., an ice pack) to numb the injection site. Using a thin needle, she'll inject just the right amount of Juvéderm underneath your skin to smooth out wrinkles or enhance facial volume, while ensuring your face looks totally natural.
After treatment, you may feel a bit of tenderness at the injection sites or notice some slight redness or bruising, or lumpiness. These are temporary effects that will resolve in a week or two. Downtime isn't necessary; just go about your day as usual.
When will I see results with Juvéderm?
Improvements are immediate; results will continue to improve for a week or two as the filler settles in and any bruising or swelling fades away. If you want to look great for a special occasion, it's best to book treatment at least 2 weeks prior. To maintain your results long-term, come back in for follow up treatments every year, or as needed.
Interested in trying Juvéderm for yourself? We'd love to help. Call 916.242.2662 today to schedule your appointment.
Save
Save
Save