Post-Weight Loss Body Contouring
Personalized procedures to help you lose the extra skin and gain the confidence you deserve.
When you lost all that weight, you did it because you wanted to improve your health and quality of life. If you're still carrying around excess skin and sagging tissue, the "quality of life" part may not be all there yet.
Our surgeons understand that it's not just an aesthetic issue—extra skin is uncomfortable physically and emotionally. They're passionate about helping men and women feel great about how their body looks and feels, and body contouring has been one of their top specialties for more than 10 years. If you're ready to ditch the extra skin after weight loss, our Granite Bay Cosmetic Surgery surgeons and staff would love to help.
Contact us today for your personal consultation with one of our surgeons
Before & After
See Our Patient Results & Mark Your Faves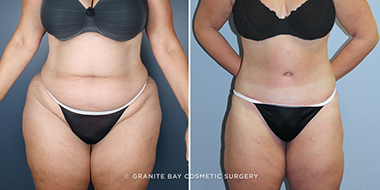 Am I a good candidate for body contouring?
The Scoop
the
scoop
»
All the key facts you need
If you're like most massive weight loss patients, you want that extra tissue gone ASAP. But you may need to slow your roll. Body lifting surgery, especially the more extensive procedures, is a pretty big deal. You need to be in excellent health and prepared for a lengthier recovery than most other cosmetic procedures. You've got to be a YES for the following before moving ahead:
You've reached a healthy weight, you're happy at that weight, and your weight has stabilized for ≥6 months.
You don't smoke. If you do, you will quit a minimum of 6 weeks before and 6 weeks after surgery, with no slip-ups.
You're expecting dramatic improvements, not perfection. This isn't supermodel surgery; but the results can be amazing.
You can deal with several weeks off of work and several months away from strenuous exercise.
You're OK with having scars that may be visible in certain styles of clothing (swimsuits, mainly).
What are my procedure options?
By combining procedures, we can cover a lot of ground in one or two operations, tightening and toning your arms, chest, back, belly, thighs or all of the above.
---
Arm lift surgery
Eliminates excess, flabby skin (a.k.a "bat wings") on the upper arm to tone, tighten, and let you wear tank tops with confidence.
The surgery, called brachioplasty, involves an incision along the underside of the arm. Your doctor removes excess skin and fat through this incision.
The thin scar is concealed unless you raise your bare arms over your head.
Back to desk job in 5 days; exercise in about 2 weeks (for arm lift alone: recovery is longer if you're having multiple procedures).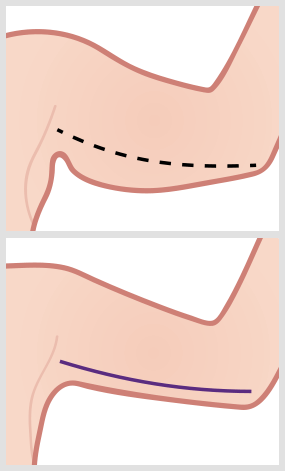 Thigh lift surgery
Removes excess skin and tissue from the inner and/or outer thighs to create a smoother, leaner thigh contour
Incision locations depend on the nature and amount of tissue to be removed, but your doctor places them in natural creases or other inconspicuous locations whenever possible
A thigh lift can help pants fit more comfortably and help you feel more confident wearing shorts, skirts, or swimsuits.
Back to desk job within 2 weeks; exercise in 4 to 6 weeks (for thigh lift alone).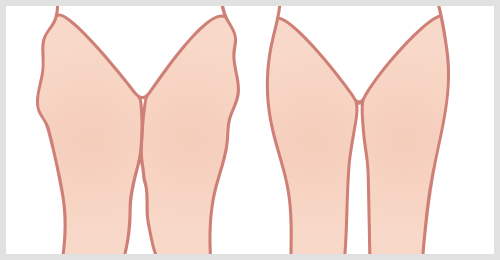 Body Lift: Lower, Middle or Upper
Gets rid of excess, sagging skin around the circumference of the abdomen; may also include outer thigh & buttock lift.
Restores a smoother, tighter, and more naturally appealing contour to the abdomen, hips, butt, and thighs.
Gives you your belly button back!
Multiple incisions may be involved; depends on the nature, location and amount of tissue to be removed.
Surgery typically leaves longer scars: running around the circumference of the body above the hip bone, along the groin, or elsewhere
Requires several weeks off from normal activity (yes, it's worth it!) Learn more about body lift recovery »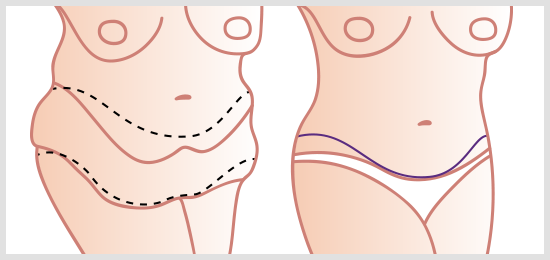 Panniculectomy
Removes the pannus, or "apron" of skin and fat hanging over the lower abdomen after massive weight loss or pregnancy
Restores a smoother abdominal contour and improves comfort in and out of clothing
Can be performed before you reach your goal weight if the pannus is causing problems such as infection, skin irritation or limits your ability to exercise
Surgery involves a horizontal incision along the pubic bone; length of incision depends on the extent of surgery
Only removes excess skin and fat; a tummy tuck may be performed at the same time to address lax musculature, if desired
Recovery times vary significantly, depending on the amount of tissue removed
Breast enhancement procedures
Extreme weight loss can extend to the breasts for female patients, leaving them sagging and deflated. A breast lift with implants is the most common procedure to help get the girls looking great again.
Men, you might look into male breast reduction to get rid of "man boobs" and enjoy a firm, flat chest appearance.
Liposuction & tummy tuck
While liposuction won't help excess skin, it can help reduce fat pockets and sculpt smoother, more natural transitions from one area to the next.
A tummy tuck can tighten loose, protruding ab muscles to firm and flatten your belly. If you're mostly concerned with sagging skin on your front, a full or extended tummy tuck may be all you need to get the body shape you want.
Ready to get started? Contact us today to schedule a personal consultation with one of our plastic surgeon.