Breast Implants Granite Bay
Which breast implants will give you the right look?
Sifting through the many breast implant choices can be overwhelming on your own, but with a little help from our talented surgeons and expert staff, finding the right breast implants for your goals and your body can be a cinch.
We have been performing breast augmentations in the Sacramento area for 10+ years. We know our stuff when it comes to breast implants, and will fit you with implants you'll love based on your anatomy and personal preferences during your consultation. Here's a snapshot of the choices the two of you will make.
Silicone or Saline?
Most patients choose silicone. Today's "5th generation" silicone implants have extremely durable shells and a cohesive silicone filling. Silicone implants come pre-filled to your selected size, and many women feel they result in a more natural softness to the breast.
Saline implants are still a great option for the right patient. They have a strong silicone shell, and our surgeon fills them to a specific volume during surgery. This allows them to fine-tune the size and use slightly smaller incisions. While rippling can be more of an issue, saline implants can look very natural in patients with adequate breast tissue to conceal the implant edges.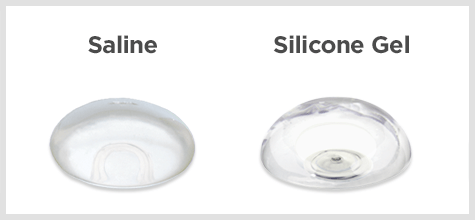 Shaped or Round Implants?
Round implants are a great option for many women, especially those who desire a fuller look in the upper part of the breast. They look natural, feel natural, and come in a variety of sizes, widths, and projections to fit pretty much every body. If you prefer the softer feel of silicone gel, round implants are the way to go.
Anatomically shaped implants, affectionately known as "gummy bears," have a silicone filling that is firmer than round gel implants. They are designed to help create a more sloping upper breast. They've gained popularity, but our doctors prefer classic round implants for their patients. They are softer, and they feel more natural. Plus, our surgeons have the surgical skill to create a very natural, sloping breast or fuller upper portion—whichever you prefer.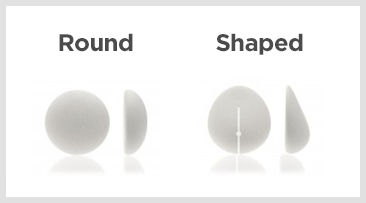 What size should I get?
Implants come in a wide range of sizes, expressed in cubic centimeters, or "cc." The same exact implant size will look drastically different on two different people; keep this in mind if you're chatting about size choices with friends.
What implant size is best for you depends on your current breast size, how much bigger you want to go, how much bigger it's safe to go given your anatomy, and what will look most natural on you. Our surgeons take all this into consideration when helping you choose a size.
What should I know about breast implant safety?
Whichever implant you choose, we'll cover some safety and maintenance basics during your consultation and sign a Patient Decision Checklist. Before your consultation, you can view a sample checklist to learn about the risks associated with breast implants.
Example Patient Decision Checklist »
Before & After
See Our Patient Results & Mark Your Faves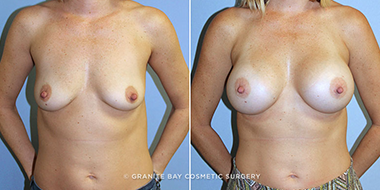 Save