Will I be stuck in baggy, unflattering clothes during tummy tuck recovery?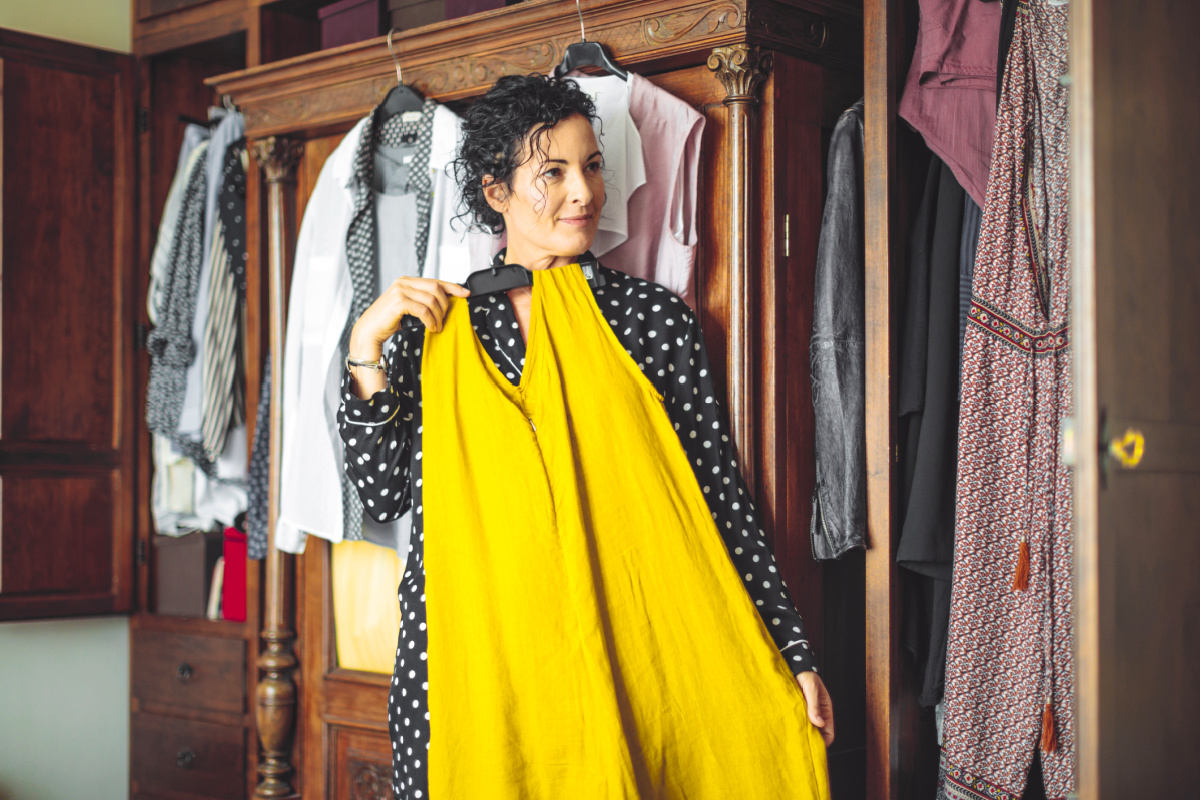 If you've started to assemble your "tummy tuck survival kit," you have probably stopped to wonder—what do I wear!? This is a smart question, and the team at Granite Bay Cosmetic Surgery is here to help you pull together a recovery wardrobe that makes sense for you! We've worked with thousands of tummy tuck patients over the years, and here is what we've learned.
First things first: You'll be in a compression garment
Tummy tuck surgery requires about 4-6 weeks of recovery time. You may have a drain(s) in place for the first several weeks, and you'll be in a compression garment at all times (minus bathing) for about 2+ months after surgery. Whether you call it a binder, compression garment, faja, or Spanx, this garment is absolutely critical for a smooth recovery and beautiful results.
We'll provide you with your first compression garment in our office, but some patients like to switch their garment after a time or rotate out a few different options. You may consider having multiple garments on hand. Many patients like to switch to something similar to Spanx, with a slim profile and a shorts-like shape.
So, what should I pack for a tummy tuck?
On the day of your surgery, wear a loose-fitting outfit that is easy to get in and out of. Make sure your top doesn't require you to lift your arms overhead and your bottom easily accommodates your bandages, garment, and any initial post-surgical swelling:
Comfortable, soft underwear
A loose-fitting top or sweatshirt that buttons or zips up the front
Loose-fitting drawstring pants that can be adjusted
What should I wear the days and weeks after a tummy tuck?
Prep a number of cozy outfits that fit the above criteria for your recovery. You will feel uncomfortable during the first week or two, so expect to repeatedly reach for these easy outfits. While many patients think they need muumuus for the early recovery period, we recommend sticking with tops that zip or button (you'll thank us later). But that doesn't mean you'll be stuck in unflattering sweatpants for months after a tummy tuck!
You will feel uncomfortable during the first week or two, so expect to repeatedly reach for pre-prepped outfits.
After a few weeks pass and your drain is removed, you will begin to feel better, and you may want to go out to eat, gather with friends, or attend events. As long as you're not dancing, exerting yourself, or otherwise straining your incisions, it's OK to get out of the house and get some fresh air.
For these occasions, you'll want to find an outfit that conceals your garment, keeps your incisions safe, and looks good! Certain styles are accommodating to compression garments and can conceal and protect your tummy while still showing off your figure. Don't underestimate your ability to "dress up" a pair of comfortable pants, for example. Just avoid skin-tight jeans or anything with elastic that digs into your waist.
For style inspiration, we love Julita Torres' article on The Mom Edit, "What I Wore Post Tummy Tuck," in which the writer details the outfits she wore (and felt good in!) during her recovery. Taking inspiration from her closet, consider how you could employ some of the following:
Stylish loungewear
A long coat or sweater with a fun print in seasonal fabric
A nice pair of loose-fitting pants
A midi dress, loosely tied at the waist
A soft, wide-leg jumpsuit with a high cinched waist
Lightweight, breathable fabrics, like linen
Most patients are cleared by their surgeon to start shopping for clothes to fit their new figure after 4-6 weeks, at which time they gradually get back to their preferred wardrobe.
Visit the body contouring experts at Granite Bay Cosmetic Surgery
The plastic surgeons at Granite Bay Cosmetic Surgery are here for you every step of your surgical journey. Dr. Christa Clark and Dr. Marc Orlando hold over 20 years of combined experience performing aesthetic procedures to help you achieve the shape you desire, allowing you to feel your most confident. We make sure that your questions are answered and you have all the information you need for a smooth, stress-free recovery. Call (916) 242-2662 or contact us online to get started today!