Meet our new facial plastic surgeon: Dr. Haley Bray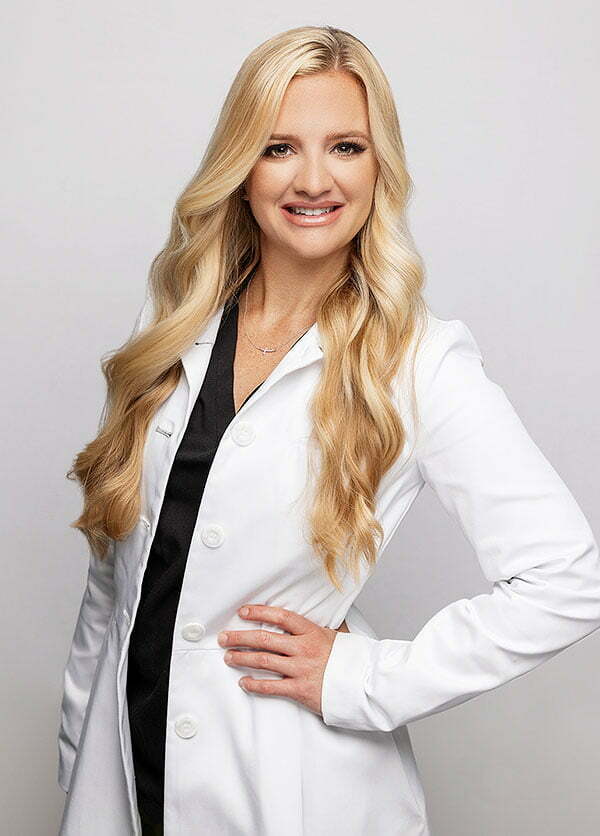 We are pleased to introduce you to Dr. Haley Bray, Granite Bay's new female facial plastic surgeon! Dr. Bray is highly skilled in facial plastic surgery and is passionate about helping others feel more confident in their appearance. She offers a full range of surgical and non-surgical facial rejuvenation procedures.
We sat down with Dr. Bray to learn about the journey that brought her to Granite Bay, as well as what you can expect if you decide to meet with her for your facial plastic surgery consultation.
Why did you become a facial plastic surgeon?
Growing up, I knew I wanted to become a surgeon and considered facial, pediatric, and general surgery. During my 5-year residency with the Department of Otolaryngology-Head and Neck Surgery at Saint Louis University, I came to love the complex anatomy of the head and neck. I had the opportunity to complete an International Facial Plastic Surgery rotation in Madrid, Spain exclusively performing rhinoplasty and it solidified my interest in facial plastic surgery. It was an incredible experience!
"I was drawn to the artistry…shaping what's under the skin to create a beautiful structure in the face along with preserving the form and function."
I love being able to help people feel confident in themselves and proud of their appearance. Being a female, I feel like many patients will be comfortable opening up to me about their insecurities and what is holding them back from being content and at peace with how they look. Being a part of someone's journey to feeling better about themselves is what brought me to the aesthetic side of surgery.
If you had to pick, what is your favorite procedure?
If I can only pick one, I'd say my favorite procedure to perform is rhinoplasty! Your face is typically the first thing people see when they look at you, meaning if you don't like your nose, it can really affect how you feel about yourself and how you interact with others. Improving the contours of the nose often transforms the face while looking completely natural—patients often feel like they have a whole new lease on life after surgery!
Reshaping the nose has medical benefits as well—it can reduce sinus issues and improve your breathing, which may potentially help you sleep and exercise better. If you've broken your nose, rhinoplasty can correct the injury, reduce the associated pain, and help your nose look as it did (or better) before you were hurt.
What is your favorite thing to do outside the OR?
Travel and eat! My favorite place is probably Cabo, but I've been to Spain, Italy, and Australia and would love to go back! I've also loved visiting more local places like Napa and Tahoe. I'm pretty adventurous so traveling and being outdoors is a big part of my life.
I'd like to consider myself a foodie and I love trying new things and getting creative in the kitchen—I'll put cheese on anything! I also enjoy comfort foods like homemade pasta, tacos, and pizza. Thankfully, there's a wine for every entree!
Are you more of a cat person or a dog person?
Easy, both! I have a 10 year old Chihuahua named Bella and an 8 year old Calico cat named Zoe. They are my babies—I love being a fur mom!
Do you have any general advice you'd give to patients who are seeking facial plastic surgery?
During your consultation, be as transparent as possible with your surgeon. It's our job to create a safe space for you to feel comfortable sharing what you are unhappy with and what your vision is for how you want to look. The more we know, the more we can do to personalize your look to achieve your aesthetic goals.
Also, whether you know exactly what you want or just want to see improvement, keep an open mind. Everyone's facial structure is unique and we all age differently, so what works for one person may not be what will work best for you. Part of your consultation is about building trust with your surgeon and having an open and honest conversation about what procedure or treatment will optimize your results while still appearing completely natural.
"The consultation process allows me to connect with my patients and advise them on surgical and non-surgical treatments that will achieve complete, naturally beautiful results."
That said, if you don't feel comfortable with your surgeon, keep looking for one who supports your goals and shares their professional opinion on how they can be safely achieved. You will experience a better recovery and better results when you have a positive relationship with your facial plastic surgeon and their staff.
Do you have any hidden talents or special skills?
I'm a third-degree black belt in Taekwondo! I've been practicing for 20 years—my whole family practices Taekwondo too. We have some pretty interesting family get-togethers!
If you had some unexpected free time, what's the first thing you would do with it?
I would go see my family in St. Louis—family is so important to me and we are very close, even with living so far away! There's no place like home, right?
Learn more about Dr. Haley Bray, female facial plastic surgeon in Granite Bay
Dr. Bray performs a full scope of facial rejuvenation procedures, both surgical and non-surgical. She offers rhinoplasty, deep plane facelift, thread lift, eyelid lift, brow lift, chin augmentation, buccal fat removal, otoplasty, hairline advancement, and more. Dr. Bray also offers non-surgical facial rejuvenation treatments such as Sculptra, Kybella, facial injectables, laser skin resurfacing, and chemical peels to name a few.
Ready to start the conversation with Dr. Bray? Schedule a personal consultation by contacting our practice online or calling (916) 242-2662.