Do I Need a Facelift, Brow Lift, or Mini Facelift? A Plastic Surgeon Explains the Differences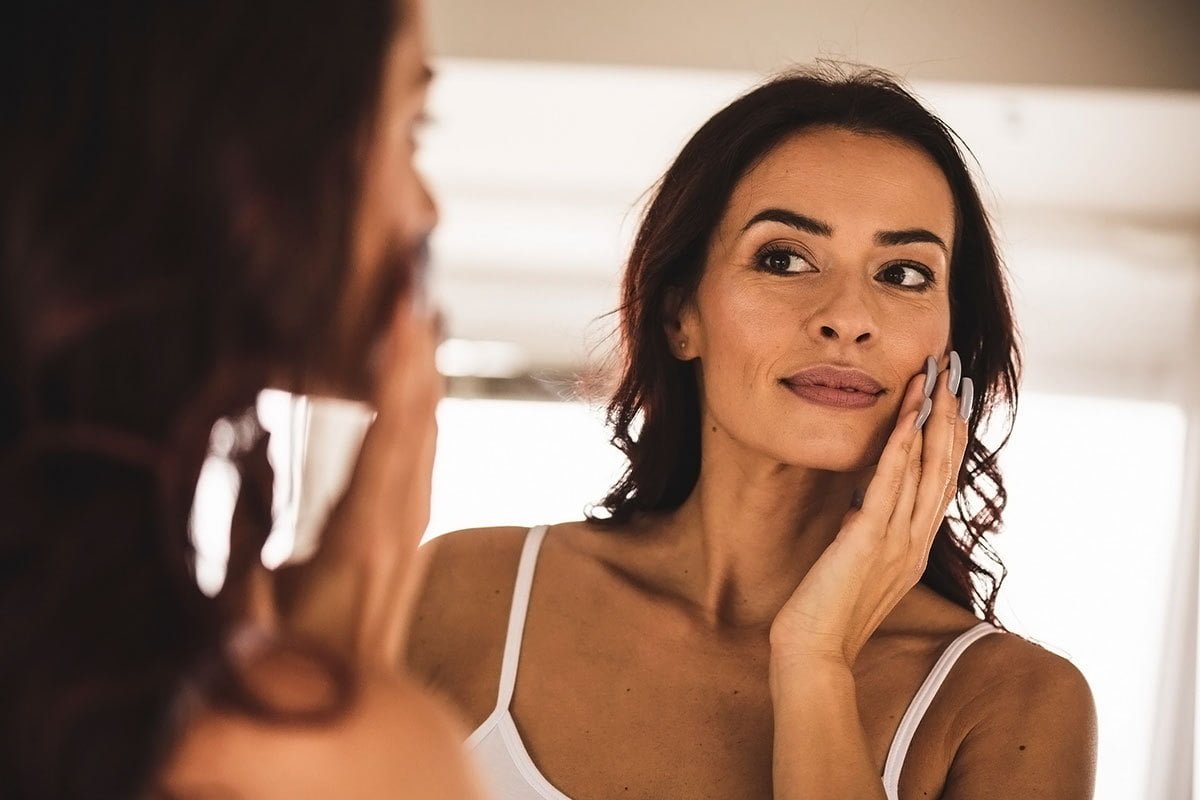 The word facelift has become a catch-all term for facial rejuvenation, but if you're getting down to researching procedures and providers, it's time to hone in on specific options.
Facelifts get major results that include the neck (!) and rewind the clock ten years, but did you know a brow lift can do wonders for the upper face? Then there's mini facelifts, perfect for those who don't need the full nine yards.
So, which procedure do you need to get the youthful look you want? It depends on your goals and your signs of aging. Below, we answer your questions about the differences and discusses how she determines which facial rejuvenation procedure is best for each patient:
How do I decide between a facelift and a mini facelift?
Your best facelift choice will depend on both your primary signs of visible aging and the results you want. A SMAS facelift, which is the standard full facelift procedure, tightens the underlying tissues in the cheek, lower face, and neck to smooth facial folds, tighten jowls, and eliminate vertical neck bands, or "turkey neck."
With the SMAS surgical technique, the underlying tissues are tightened to give the skin a firmer foundation. The skin itself is not stretched, but rather repositioned over the tightened tissue, with the excess removed. After this procedure, results are dramatic yet natural throughout the face. By all accounts, the facelift takes a full ten years off your look.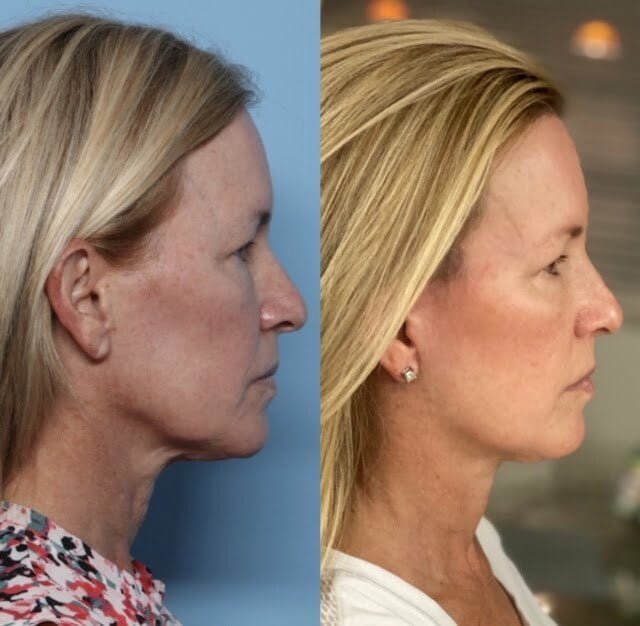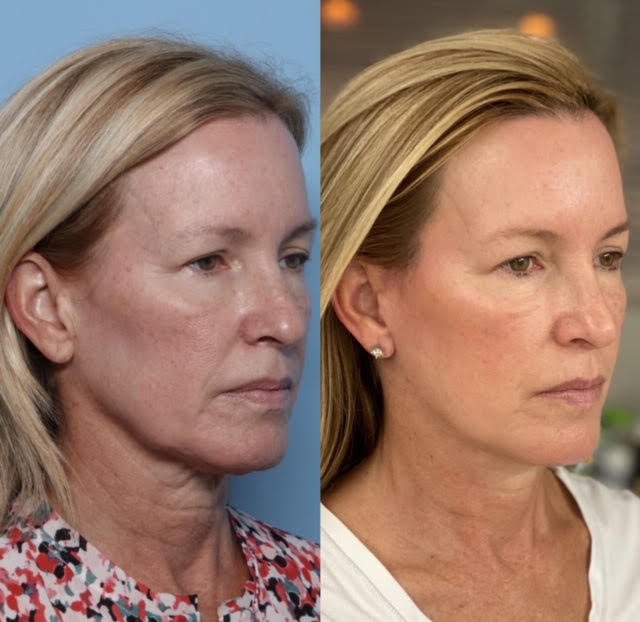 In comparison, the mini facelift is a less extensive procedure that lifts the lower face, including the jawline, jowls, and nasolabial folds. A mini facelift can also tighten moderate skin laxity in the neck.
For younger patients or those with early signs of aging in the jowls or nasolabial folds (and, usually, fewer wrinkles and less skin laxity overall) the mini facelift is able to restore a distinct youthfulness. You can expect the results to shave about 5 years off of your appearance.
While we could also compare a mini facelift's shorter recovery time with that of a full facelift, we urge you to instead take a long-term perspective when it comes to recovery. Make your procedure choice based on what you really need—a few extra days healing now will make no difference if you'll enjoy the results for a decade. Plus, under-treating concerns will only lead to unsatisfactory results.
How will my experience be different with a facelift vs. a mini facelift?
The difference between a facelift and a mini facelift begins with a different surgical technique. In a full facelift, you'll receive general anesthesia to put you to sleep so that you're unconscious for the duration of the procedure. Incisions are made at the front and back of the ear, behind the hairline from the temple down to the base of the head, and beneath the chin. Recovery after facelift requires about 2 weeks off of work, and involves wearing a compression garment over the incisions after the bandages are removed.
In a mini facelift, incisions are placed in front of and behind the ears. While a full facelift is always performed under general anesthesia, you may choose either general or local anesthesia for a mini facelift. Local anesthesia involves a sedative pill to relax your body and put you in a calm headspace during the procedure, as well as numbing injections to the area where we are operating. You will feel no pain during the operation. Local anesthesia is a great option for patients who are anxious about general anesthesia, and it eliminates the leftover drowsiness patients experience after waking up from general anesthesia. Patients usually require about 1 week of downtime to recover from a mini facelift.
TIP:
Follow your plastic surgeon's advice if they say you need to step up to a larger procedure—or add on other options to treat the issues you want to correct. Ideally, you and your surgeon will find the sweet spot where nothing has been overdone, yet you look refreshed.
How do I know if I'm a good candidate for a brow lift?
A brow lift tightens the upper third of the face, from the eyebrows extending up to the hairline, through incisions that are usually made behind the hairline. A brow lift leads to a more alert and yet softened, happy look, with a smooth forehead and tightened brow area. For many, this is the procedure that banishes the "perma-frown" that develops with a loss of skin elasticity, revealing a more pleasant resting facial expression.
You can tell if you need a brow lift if you have a heavy, drooping brow and wrinkles or folds in the forehead and/or between the eyes. Brow lifts get the best results on patients who do not have high-set eyebrows.
There are two types of brow lift surgery, and with either one you may choose general or local anesthesia. Your incisions and recovery will be different depending on which we perform:
Traditional brow lift: In a traditional brow lift procedure, you'll have incisions either along the scalp or behind the ears. Like in a facelift, underlying tissues are tightened, and the skin is repositioned over the newly-tightened scaffolding. Excess skin is also removed. Recovery requires about a week off of work, similar to a mini facelift recovery.
Endoscopic brow lift: Through a series of very small incisions along the hairline, I insert a tiny camera and lift the sagging tissues through each incision. Recovery is quicker thanks to the minimal incisions. While endoscopic brow lifts promise an easier recovery, it's best for those who do not need a major change.
Patients who need a brow lift often also have the same issue with sagging upper eyelids, so it's common to combine a brow lift with an upper (and sometimes lower) eyelid lift.
Can you combine a facelift with a brow lift?
Yes, you can absolutely combine a full facelift with a brow lift procedure. The two procedures target different areas of the face: the bottom two-thirds and the upper one-third. For a lift throughout the entire face, you may need both. A brow lift can also be combined with a mini facelift for those with less aging in the lower face. The benefit of a combined procedure is that you have only one surgery and recovery, rather than having to return later to achieve comprehensive facial restoration.
If most signs of aging are showing in your forehead, then you may be able to get away with supplementing a brow lift with fillers and Botox in the lower face. This also works vice versa, so if you require only Botox to maintain a smooth forehead and have minimal skin laxity in the brow area, a facelift may be all you need for an even facial restoration.
What do facelifts, brow lifts, and mini facelifts have in common?
All three procedures tighten the face and lead to a more youthful appearance. For patients in need of a significant change, Botox and fillers simply can't get these kinds of natural looking results—nor do they last very long by comparison.
While all surgical lifting procedures do permanently "turn back the clock" a certain number of years, you will continue to age from that point forward. Still, you will forever enjoy looking younger than you would have otherwise, especially if you take excellent care of your skin. Commit to wearing a broad spectrum sunscreen year-round, eating a healthy diet, and following a professional skincare regimen to protect your investment.
Should I consider a "nonsurgical facelift"?
If you don't necessarily need your results to be permanent, there are a number of nonsurgical treatments that can tighten mild skin laxity and temporarily address wrinkles. A "nonsurgical facelift" might combine the injectable Kybella™ for double chin reduction, a series of RF-enhanced microneedling treatments for skin tightening and resurfacing, and perfectly injected dermal fillers to plump your skin in all the right places.
Nonsurgical treatments aren't just for patients with less significant skin laxity and wrinkles—our facelift, brow lift, and mini facelift patients love using these treatments to maintain and "touch up" their results!
Consult with a plastic surgeon with an eye for natural beauty
The best way to decide how to freshen up your look is a sit-down consultation with your plastic surgeon. Call our office at (916) 242-2662 or contact us online to begin.