Prep Sunday for Tasty, Wholesome Lunches All Week Long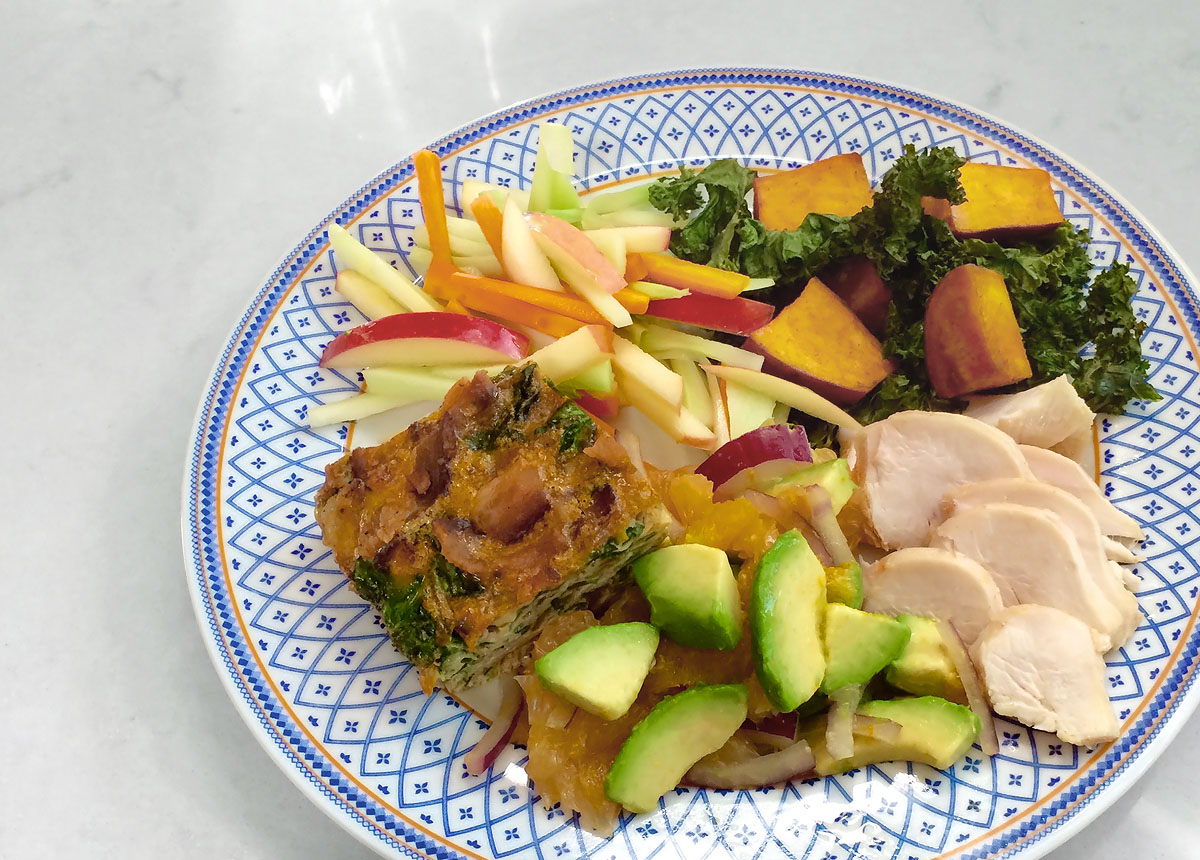 As a busy mom, I totally understand the drill: we want to eat healthy and we want our family to eat healthy. But there is just not enough time at the end of a long work day, taxiing the kids back and forth to sports, and getting homework done. As a bona fide foodie, I've found the best way to ensure I have wholesome, delicious food ready to go every day is to prep lunches for the entire week on Sunday. With just a quick trip to the grocery store and a few hours of my afternoon, a little effort pays off in big ways throughout the week.
It's easier than you think to make a week's worth of meals that taste so good your kids will want your lunch too!
I love having meals ready to eat when I only have 10 minutes to squeeze in a lunch break between patient consults. Plus, I know what I'm eating is healthy. Removing the take-out menu from the equation takes the guesswork out of how many Calories I am consuming, what the ingredients are, etc.
It's been a game-changer for me, so I challenge you to give Sunday prep a try yourself. It's easier than you think to make meals that taste so good your kids will want your lunch too! Ready? Let's get started.
Healthy Lunch Formula
Notice I call this a formula, not a recipe. That's because you can easily vary it to your liking, mood, and ingredients on hand. And it's so easy, you'll soon have it memorized and be ready to wing it! This is enough for a week's worth of lunch for one–double or triple the recipes if you're sharing.
First, make a hearty "centerpiece" dish like this Bacon, Onion & Spinach Casserole:
12 eggs
½ tsp each: salt, pepper, paprika, oregano
2 Tbs olive or coconut oil
1 medium white onion, diced
2 cloves garlic, minced
5 oz package baby spinach leaves, roughly chopped
½ c. cooked & diced pastured pork bacon
Preheat oven to 350°. Whisk the eggs, herbs, and spices together in a large bowl until slightly frothy; set aside. Heat the coconut oil in a large skillet over medium heat. Add onion and saute until translucent or lightly golden (about 5 minutes). Add garlic and spinach; cook an additional 1 minute, then transfer to a greased 8×8" baking pan. Pour egg mixture over top. Arrange bacon pieces over eggs. Bake 30-40 minutes until set.
Next, make your lean protein:
1 lb boneless pasture-raised chicken breasts
2 tsp olive oil
½ tsp salt
¼ tsp cayenne or ½ tsp paprika
Preheat oven to 425°. For chicken, place in a baking dish and coat with olive oil and seasonings. Bake for 30 minutes, or until done (best way is to test with meat thermometer—160° F is what you want). Let it cool down completely, then dice into bite size cubes. In a time crunch? Buy one or two rotisserie chickens from the market–just be sure the chicken is pasture-raised, hormone and antibiotic free, and cooked without artificial food additives.
Meanwhile, prep your cooked veggies:
¾ lb sweet potatoes
5 large kale leaves, washed
½ red onion, quartered then sliced ½" thick
1 Tbs + 2 tsp olive oil
¾ tsp salt
½ tsp ground chipotle, curry, or chili powder
Cut sweet potatoes into wedges. Put into a large roasting pan (or sheet pan with edges) with the sliced onion and coat with 1 tablespoon olive oil, ½ tsp salt, and the chipotle, curry or chili powder. Place in oven and roast at 425° for 10 minutes. Meanwhile, pull kale off the stems and give the leaves a few rough chops. Toss kale with the remaining 2 tsp olive oil and ¼ tsp salt and add to your roasting pan with the sweet potatoes. Bake 10 to 20 more minutes until everything is nicely roasted and you can pierce your sweet potatoes with a fork.
Prep an organic citrus salad for a flavor contrast:
2 oranges
2 grapefruits
½ red onion
2 Tbs chopped fresh mint
White balsamic or sherry vinegar & extra virgin olive oil to taste
Salt & pepper to taste
2-3 avocados (optional)
Grate zest from one oranges and one grapefruit. Peel and segment the oranges and grapefruits, removing the seeds, and place in large bowl. Peel the onion, slice in half vertically, and slice into thin half-moon rings. Toss with the fruit; add mint, salt and pepper, and toss again. Drizzle with oil and vinegar to taste.
Avocado is a tasty addition, but you'll want to add it at the last minute. Take a few to work on Monday, halve and slice right before lunch each day (keep the pit in the unused half to keep it from browning).
Make a raw slaw that lasts:
2 whole apples
4 broccoli stems, peeled
4 large carrots
2 tsp lemon juice
Cut the apple, broccoli stems, and carrots into matchsticks. Toss with the lemon juice to prevent browning. Add salt & pepper or your favorite dressing.
Pick out or make your dressing:
Dressings that have plenty of flavor and play well with lots of foods can nicely unite a variety of healthy ingredients in one dish. Try Green Goddess, Ranch, or a tahini-based concoction. Many bottled varieties contain added sugar and preservatives, so it's best to prep your own. Here's one recipe:
Healthy Green Goddess Dressing
1 packed cup mixed fresh herbs (such as basil, chives & cilantro)
½ avocado, peeled and pitted
4 ounces Greek yogurt
1 Tbs honey
1 Tbs fresh lemon juice
¾ tsp salt or to taste
Blend all together in small food processor or blender. Add a little water to thin to a consistency you like. Feel free to double the recipe if you like more dressing on your veggies.
Store in the fridge, ready to assemble in 5 minutes each morning
Store all items individually in containers in one area of the refrigerator so you can quickly pull out the group and scoop some of each ingredient into your lunch container.
Choose durable, divided storage containers. I prefer Bento box style containers, like these from Bentology, which make portioning, storage, and transport easy; all you have to do is grab one box, fill with components, and go.
When you're ready to eat, you can heat up your centerpiece, protein, and/or cooked veggies to make a hot/cold combo that suits your fancy. Add a piece of dark chocolate for something decadent to finish.
Changing it up
Want to march to the beat of your own recipe drum? Simply changing up the seasonings can give our Healthy Lunch Formula a dramatic twist. This fabulous primer on flavor profiles will get you started. Here are some other lunchbox-friendly ingredients to try.
Proteins: hard-boiled eggs, wild-caught salmon or tuna, grass-fed beef
Hearty centerpiece dishes: a large veggie frittata or crustless quiche, zucchini fritters, or your favorite hearty soup
Cooked Veggies: roasted spaghetti or butternut squash, Yukon gold potatoes, portobello mushrooms
Raw Veggies: bell peppers, shredded raw collards, broccoli, jicama, spiralized zucchini
Amp up flavors: chilis, fresh herbs, curry paste, vinegars, tamari, coconut aminos
Add "extras": nuts, avocados, shredded coconut
If you want even more recipe inspiration, check out these make-ahead whole foods meals from The Kitchn or for another start-to-finish weekday meal plan, check out this this grain-free, clean eating shopping list and menu.
Happy cooking, and bon appétit!