Get the Deets on Our Gorgeous Facility Design—Plus Decor Tips You Can Use—from Our Interior Designer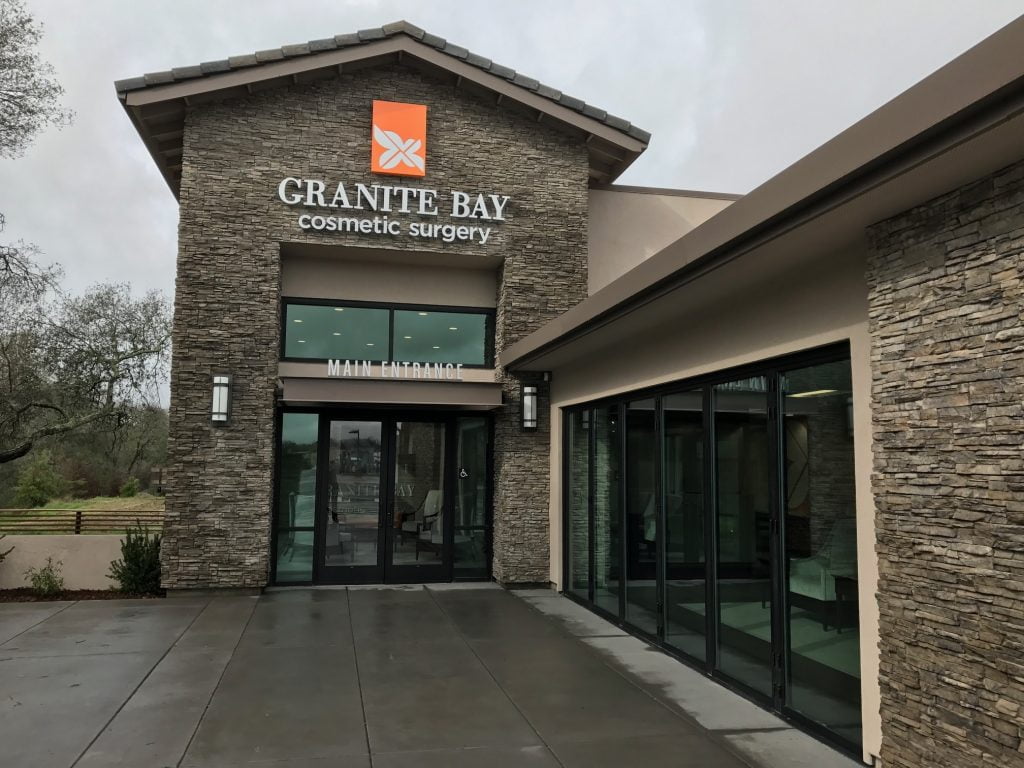 Have you seen our brand-new facility? We're in love with how it turned out, thanks to our brilliant interior designer Valerie Hoffman. Valerie is California Council for Interior Design certified and has a fantastic eye for design; we certainly lucked out when we were able to snag her to decorate our new space.
We recently chatted with Valerie about her process, what inspired the Granite Bay Cosmetic Surgery look, and got some tips you can incorporate into your own spaces!
Most surgery centers are fairly clinical, but Dr. Clark wanted more warmth and a boutique feeling.
So, you've been hired by a client who wants you to design their perfect space. What's next?
Generally, I start by asking the client a few questions. What is important to them in the space; what are they visualizing? What's important to them personally? Should the brand be layered in with the design? How do you want people to feel when they're in your space?
This can yield very specific answers, like "I want it to feel like Armani meets postindustrial," to emotionally driven responses, like "I want it to feel peaceful" or "I want people to be happy when they come here." That gives me my starting point, helping me to get to know the client and their expectations. After I get this information, I begin layering in my ideas and design concepts to help achieve the project goals.
What were some of the inspirations for Granite Bay Cosmetic?
When I came in, pretty much all of the walls were complete and the layout had come together, which can sometimes make interior design concept a bit more difficult. For Dr. Clark, coming through the entrance and walking through the lobby was really important—and she wanted a facility unlike any other in the area. Most surgery centers are fairly clinical, but Dr. Clark wanted more warmth and a boutique feeling. She wanted patients to walk in and say, "Wow, there's nothing else like this."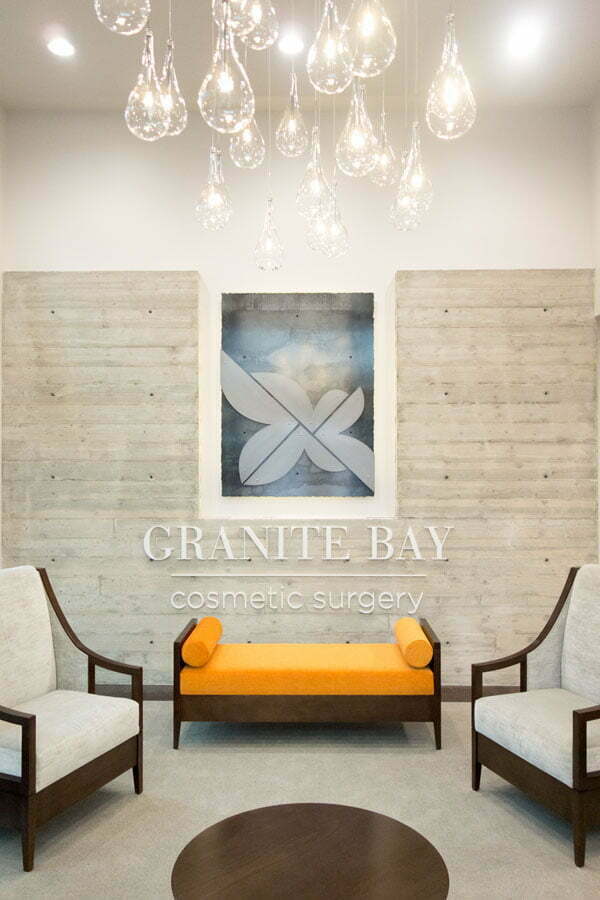 We began layering this in, incorporating the metal and dark wood elements Dr. Clark favors, keeping it polished but still earthy and comfortable. That's when we got the concrete board form wall and metal signage, which really started to set the tone. For a touch of luxury, we dropped the lights from the ceiling like jewelry.
We really wanted people to walk in and go "WOW!"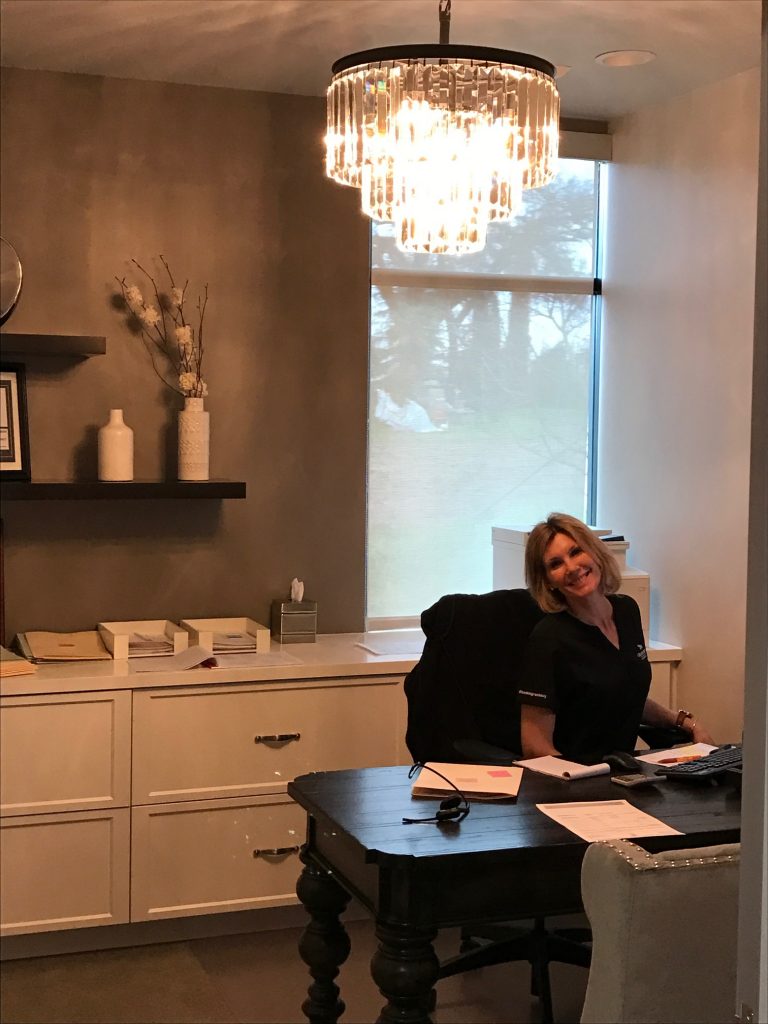 The reception desk is a faux marble, which really brought together these natural-looking materials. Dr. Clark had a clear vision of what she wanted to evoke in the space, and it was wonderful to help bring that to life. She would bring in pieces of furniture she liked, which really helped me understand what she liked; she loved this Hooker style furniture, and I thought, "Okay, so she likes the blending of the more traditional with the juxtapose of the modern." And that's really what started to set the tone for her.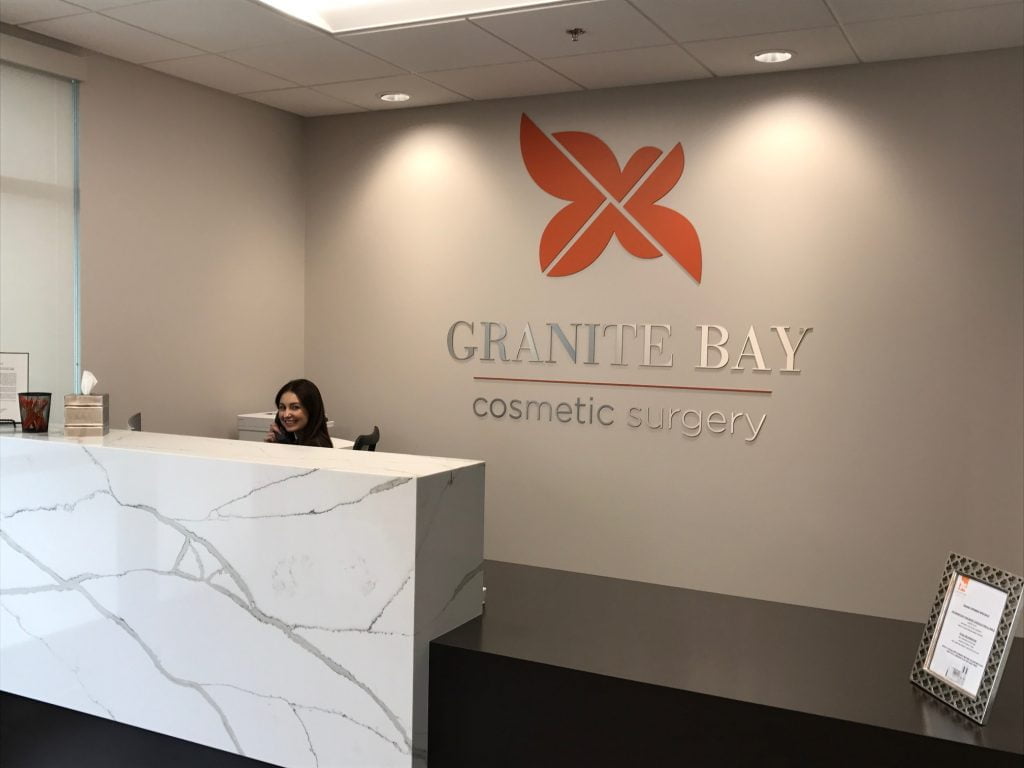 When you were designing GBC, what kind of response were you trying to evoke when people first walk in?
We really wanted it to be "Wow!" It's funny because a lot of clients want "Wow!", it's just how do you get to "Wow!" that is unique to each space. There is a fine line between creating a space that people feel comfortable in, that people are attracted to, that they think, "This is really nice, I like it" and something that feels overdone. It was particularly important to strike that balance at GBC.
We wanted a cohesiveness throughout, which naturally helped keep the space from feeling clinical and cold; there are even logos cut into the operating room. Dr. Clark has just taken this extra step of layering the brand, creating that experience for the patient.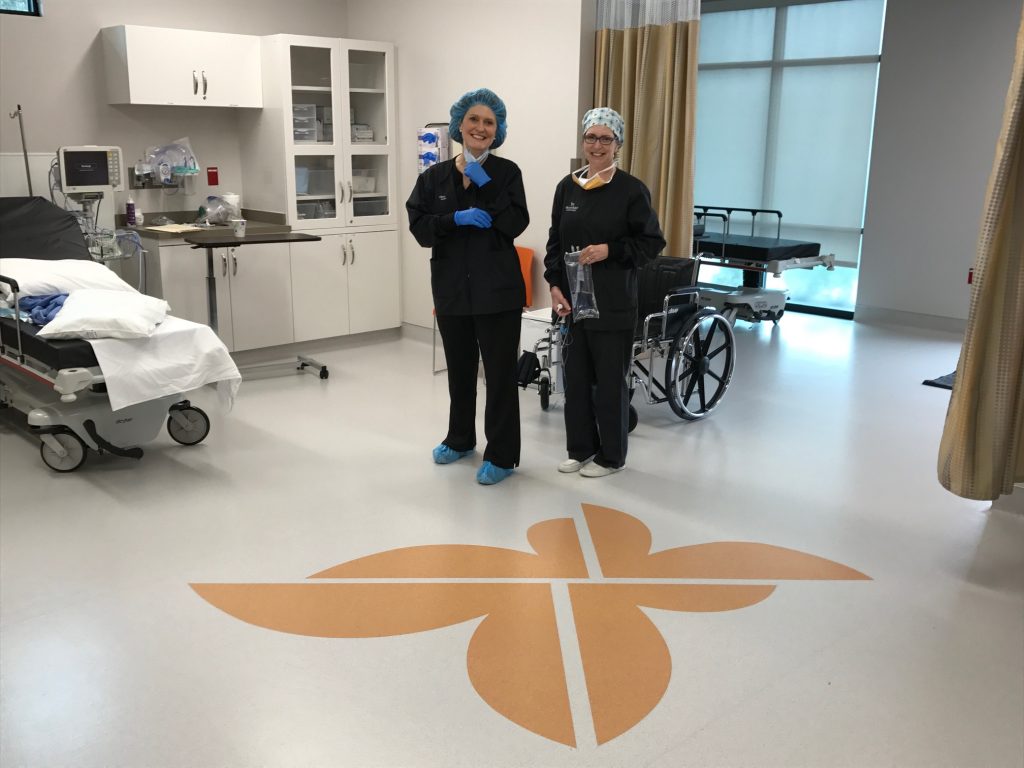 What are some of your favorite features of GBC's interior design?
I love the board form wall with the metal art piece in it, and I love the jewelry hanging from the ceiling. That wasn't easy to do! There are around 20 or more different lights that all had to be put in individually. Normally you might shy away from something like that, but I just felt like it would make a statement and was very much worth the effort.
It's hard to single out favorite features when they all come together so well. For any design project, there are so many little (and even inexpensive) things you can do to create a fabulous look, from finishes, the right furniture, carpet, etc. You can create a great space with any kind of space, if you do it right.
It's important to be smart about where you want to use your money and what's the best value for you.
What makes the Granite Bay design so unique?
The team gave a lot of thought in the experience for both the patient and the employees. The break room is really cool, and the patient experience is great. Doors open up to their courtyard, creating a fabulous indoor/outdoor feel.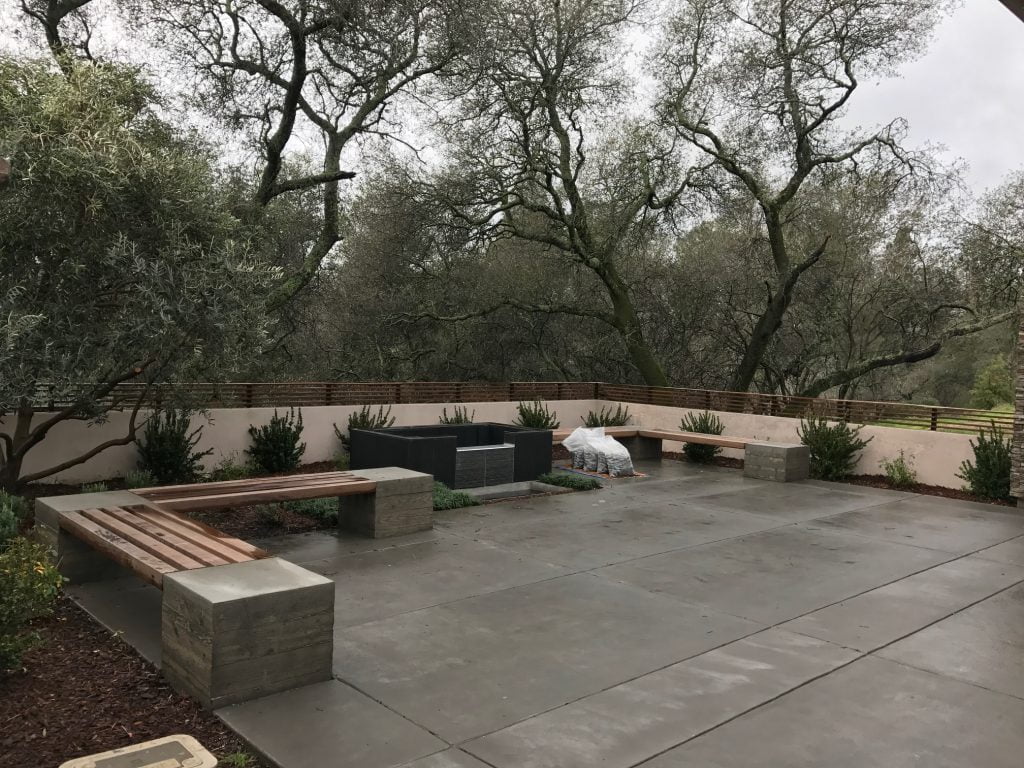 Dr. Clark really put thought into how she wanted the space to feel, and I don't know how involved most doctors typically are in this process. I think that that's what is at the heart of this unique patient experience—and why patients want to go to Granite Bay Cosmetic Surgery. It's different than the norm. They went the extra mile.
What are some expert tips and tricks people can apply to their own spaces?
You're going to be in your house or in a space for a really long time, and I think you have to think about longevity. Sometimes people say, "I can't do that, it's too expensive," but I would be cautious on where you choose to not spend the money versus where you choose to spend the money. I'll use an example: buying your family room sofa. That sofa needs to be a great sofa because you're going to be in that room all the time—and I wouldn't buy the least expensive model. But you may be able to save some money on the chair or love seat in a room with less traffic, because it's not going to get the high-usage.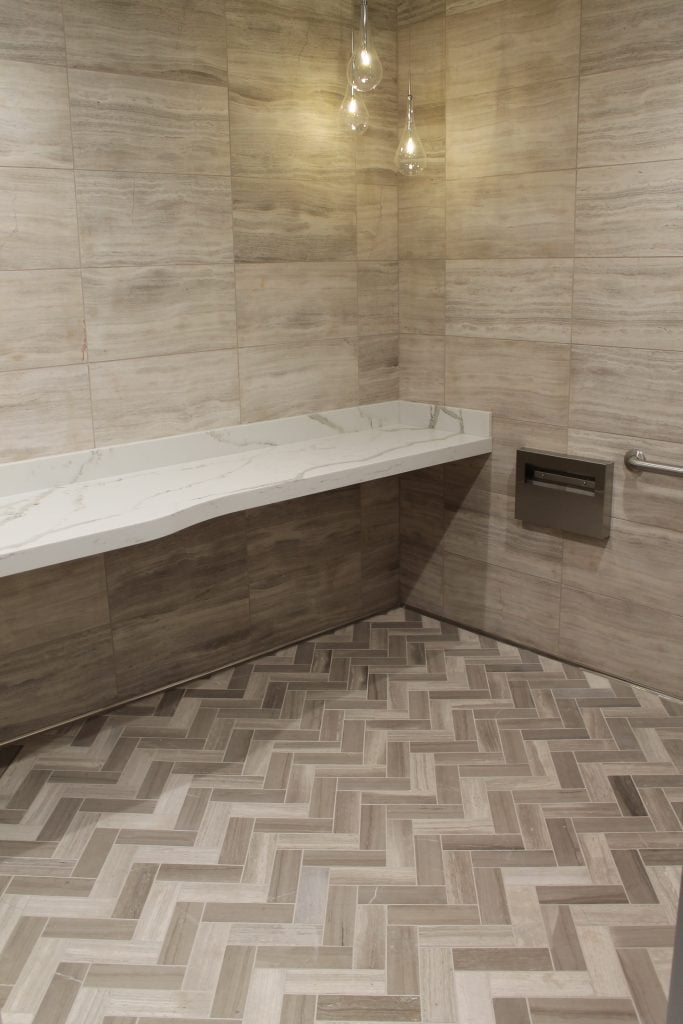 It's important to be smart about where you want to use your money and what's the best value for you. Explore alternatives. Carpet was a big thing years ago because it was less expensive and easier to care for than wood, but now we've got so many cool products that resemble wood without the added cost or maintenance issues. There are areas where you can get an amazing look for a cheaper price tag.
You don't have to spend a lot of money on an interior designer, but working with a professional means gaining a team member who knows about all of these things and can help you get the good stuff for great prices. They can help you walk your space and say, "If you just did this, this, and this, it would make all the difference." So many people over-accessorize or they put too much furniture in the space; a professional can help you balance that out. I think it's important. I mean, I don't cut my own hair or do my own legal stuff, so why would you not use a person that has a great creative eye to help you make your personal spaces even better?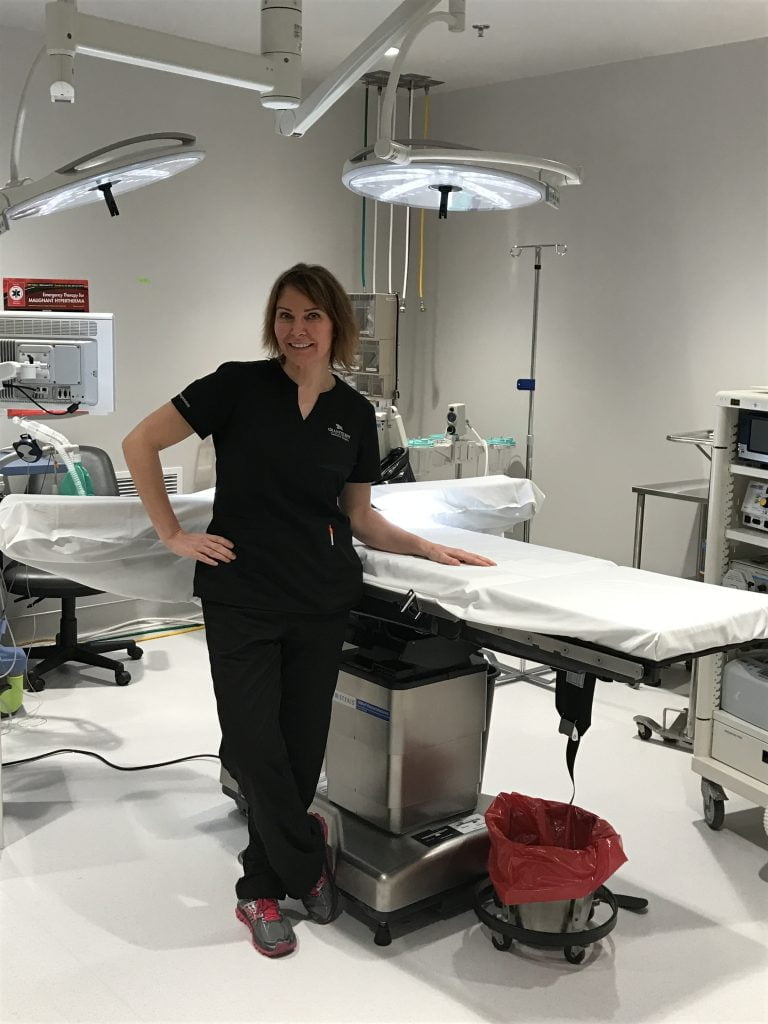 Where can people draw interior design inspiration in their everyday lives?
One of the best places is Pinterest. People put ideas and projects on there, which can help inspire you and inform your own design. Everything's pretty much been done, so don't feeling like you're "copying;" instead, you're taking something and making it your own.
Maybe you come across a succulent wall on Pinterest, and you might say, "Gosh, if I modified that, I could maybe do something a little different on a countertop or on a buffet." You can get so many cool ideas that people have shared—and Pinterest has something for everyone. Type in "rock wall" or "garage doors" or "small spaces," and you will get a ton of great ideas.
Any final interior design insight you'd like to share?
Don't be intimidated about doing something creative. There are so many arenas for creativity, whether it's with a full design of your house or office or little touches to liven a space up. Ultimately, have fun with it!