Could "Greening Your Family" Make You Healthier? Mt. Sinai Thinks So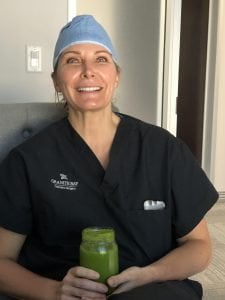 Ask any of my patients and staff and they'll tell you that I'm a total nerd when it comes to healthy living. And I have to admit, one glance at my bookshelf proves them right. From sticking to a whole foods, organic diet to using top quality skincare to sipping from my BPA-free GBC cup, I'm serious about living as non-toxically as possible.
Considering I'm a plastic surgeon, you might think that maintaining a fit, youthful look is a primary motivator. This is indeed one of the benefits of a green lifestyle, but it's about so much more than how I feel. Living green is important to my family's health—and yours too.
Your home environment impacts your kids' health…
Rates of autism, asthma, ADHD, learning disabilities, and a host of other chronic conditions have increased significantly in the last few decades—much too quickly to be blamed on genetics alone. There almost certainly are environmental factors contributing to the increase in these diseases. Identifying these factors, so we can reduce their impact on the health of future generations, is the mission of the Children's Environmental Health Center (CEHC) at the Icahn School of Medicine at Mount Sinai.
…and here's what you can do to clean it up!
Another goal of the CEHC at Mount Sinai is educating families and communities on reducing environmental factors that can be harmful to health. They recently released this checklist with 10 tips for how to "green" your family and your home. Give it a look—most of these tips are refreshingly simple and easy to implement starting right now.
For example, avoiding artificially scented products. Mount Sinai points out that "artificial fragrance contains up to 100 chemicals that may disrupt hormones and alter brain and reproductive development." Yikes! Sure, you can use up your current bottle of laundry detergent, but consider making the switch to an unscented, chemical-free option going forward—you'll breathe easier knowing you and your family are not inhaling that stuff. And with cooler fall air on the way, now is the perfect time to implement tip #8 and get more fresh air in your house!
You can come to the skincare team at GBC for help with tip #3: we have some superb mineral based sunscreen that feels silky on the skin.
A bonus of following these health tips for your family: you're almost guaranteed to feel better eating more organic, homemade meals and treating your skin and hair to nontoxic products.
I hope you're as inspired as I am to make changes to improve your family's environmental health after reading this info from Mount Sinai. If you have any tips of your own, share them in the comments below. Happy greening!