Plastic Surgeons Answer 5 Questions about Breastfeeding with Breast Implants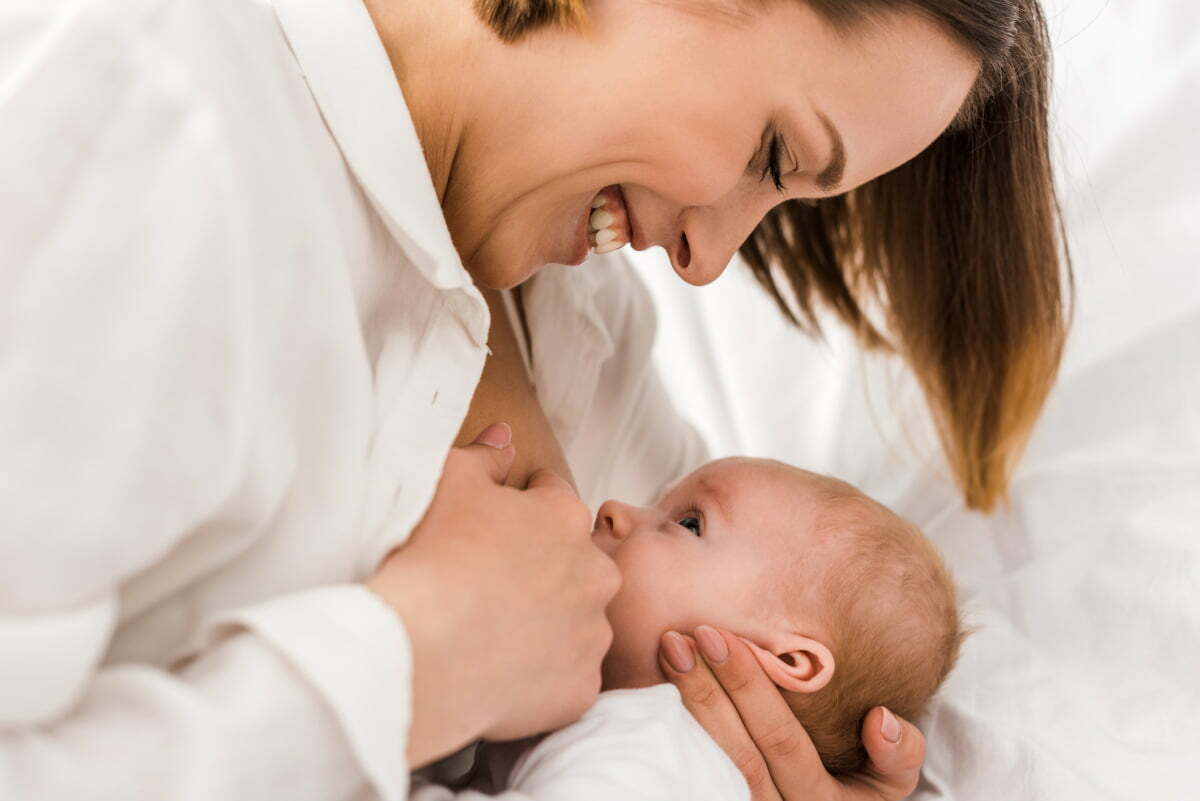 Whether you've already had a breast augmentation or plan to start a family after having surgery, you may be wondering if the procedure or the implants themselves will interfere with your ability to safely and successfully breastfeed. The good news is, studies have long-since proven that breastfeeding with implants is safe—here, the expert plastic surgeons at Granite Bay Cosmetic Surgery answer 5 common questions about breastfeeding with implants.
1. Is it possible to successfully breastfeed with breast implants?
Yes, it is possible to successfully and safely breastfeed with implants. Breast implants are placed under the ducts that produce milk, having a minimal effect on the breastfeeding process in most cases. The vast majority of breast augmentation patients are able to breastfeed normally—at success rates similar to the general population of new moms. However, it should be noted there is some evidence that women with implants are less likely to exclusively breastfeed and more likely to supplement with formula or donor breast milk.
2. Is there any reason I should avoid breastfeeding with implants? Are there benefits to breastfeeding with breast implants?
No; at this time, there are no clinical reports indicating that you should avoid breastfeeding with implants. Studies show that silicone levels in the milk of mothers with silicone implants were not significantly different from silicone levels in milk from unaugmented breasts. In fact, silicone levels in cow's milk and infant formula were significantly higher.
While there are no reported benefits to breastfeeding with breast implants, some augmented mothers may enjoy the post-partum shape of their breasts from a purely cosmetic standpoint.
3. Are there any breast augmentation safety precautions I should take if I plan to breastfeed?
Share your desire to eventually breastfeed during your breast augmentation consultation, so you and your Granite Bay plastic surgeon can decide what incision and implant placement will best preserve your ability to breastfeed in the future. Other than that, you should plan and prepare for your procedure in the same ways as all breast surgery patients.
Choosing an experienced, board certified plastic surgeon who operates in a safe, accredited surgery center sharply reduces your risk of infection, scarring, and capsular contracture, which may or may not interfere with breastfeeding, but may interfere with your health and your aesthetic outcomes.
4. Will different types of breast augmentation procedures have different effects on milk supply while breastfeeding?
Any breast surgery has the potential to affect the nerves and milk ducts within the breast, thus possibly impacting lactation. For breast augmentation, studies show that surgery options such as incision placement and implant size may influence breastfeeding after surgery. Implants that are placed below the muscle may affect milk production less than implants above the muscle, while incisions around the areola and nipples may be more likely to cause reductions in milk production. If your surgeon used a periareolar incision (below the lower portion of the areola) there is a possibility that the viability of the milk ducts may have been compromised.
Over time, ducts that were severed or disturbed during surgery may grow back together or regain functionality, enabling you to produce milk.
A skilled plastic surgeon can usually preserve milk ducts during a breast lift or breast reduction surgery—that said, periareolar incisions and surgical techniques that completely detach the nipple may have a greater impact on milk supply.
Ultimately, milk production will depend on the number of connected ducts and functionality of the nerves that enable lactation, as well as other factors apart from the surgery, such as hormones and the rate of milk removal.
5. How can I maximize my milk supply when breastfeeding with breast implants?
The remedies for increasing milk supply are generally universal, whether you have implants or not. These include breastfeeding often to maintain production and "emptying your breasts," consuming lactogenic (milk-making) herbs and foods, and ensuring proper latching. Mothers should consult with an International Board Certified Lactation Consultant (IBCLC) for safe ways to stimulate milk production and ensure they receive appropriate professional support for any breastfeeding challenges that arise. Similarly, all babies should be monitored by a pediatrician to ensure adequate weight gain and growth.
Breast augmentation at Granite Bay Cosmetic Surgery
With over 20 years of combined experience performing a comprehensive range of aesthetic procedures, the expert aesthetics team at Granite Bay Cosmetic Surgery is fully committed to helping you safely achieve pleasing results you will love. Our Granite Bay plastic surgeons will answer your questions and help you feel confident about your plastic surgery plan for a smooth, stress-free recovery. To schedule your consultation for any Granite Bay procedure, call our practice at (916) 242-2662 or contact us online today!