Meet Dr. Marc Orlando
Skilled, dedicated aesthetic plastic surgeon in Granite Bay, CA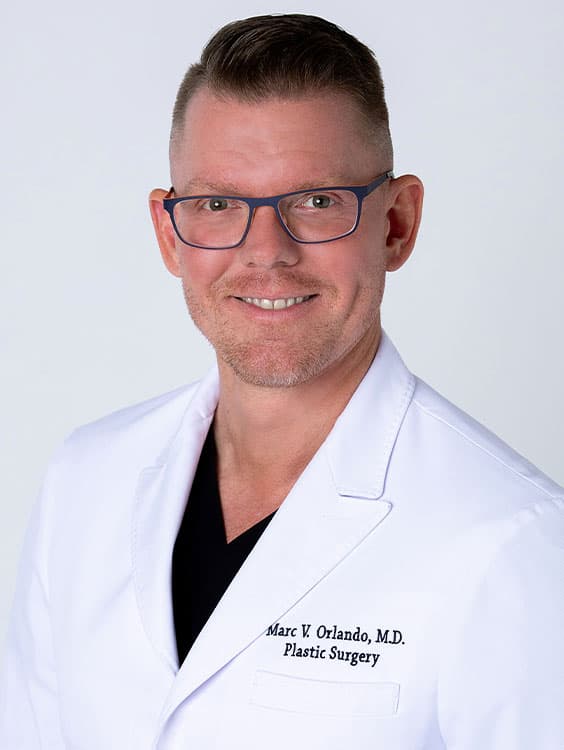 Marc Orlando, MD believes that collaborating with you is the key to achieving the results of your dreams. From the first consultation, patients notice Dr. Orlando's attention to detail and thoughtful approach to discussing their goals.
A fellowship-trained aesthetic plastic surgeon, Dr. Orlando is a lifelong visual artist and landscape photographer with a meticulous eye for beauty and detail. Schedule your consultation with Dr. Orlando to discuss your goals, and learn how he can make your vision a reality!
Dr. Orlando offers a full range of cosmetic plastic surgery
Dr. Orlando is a fellowship-trained aesthetic plastic surgeon, having completed post-residency training endorsed by The Aesthetic Society. With years of experience specializing exclusively in cosmetic procedures, Dr. Orlando has the skills to help you achieve the results you desire and boost your confidence.
"I love to spend time with my patients. The consultation process is a collaboration, where I bring my skills and you share with me the results you're looking for. I'm here to help you learn about your options, and what you can expect. That is how we come up with a plan—together."
Dr. Orlando
For Dr. Orlando, the consultation is one of the most exciting parts of your surgical journey. He views this meeting first and foremost as a collaboration between the two of you. It's all about establishing a solid plan, and in order to get there, he is ready to educate you and answer all of your questions.
Dr. Orlando offers a full range of procedures for the breast and body at Granite Bay Cosmetic Surgery, including:
Breast procedures, such as breast augmentation, breast lift, and breast reduction
Body contouring, like mommy makeover and Brazilian butt lift (BBL)
Advanced Education, Training, and Experience
Dr. Orlando completed residencies in both general surgery and plastic and reconstructive surgery before pursuing an aesthetic surgery-focused fellowship at University of Southern California, Marina Plastic Surgery, and Rox Center in Beverly Hills and Newport Beach. This fellowship is endorsed by the American Society for Aesthetic Plastic Surgery (ASAPS), a leading international organization of skilled aesthetic plastic surgeons. Fellowship training allowed Dr. Orlando time to refine his skills and focus his practice entirely on cosmetic surgery, which he has exclusively practiced for over 6 years now.
"[Dr. Orlando is] thorough, very dedicated to his patients' health, and has [an] amazing bedside manner. He is talented and methodical and highly recommended."
Actual patient of Dr. Orlando
In addition to his comprehensive training and experience, Dr. Orlando has contributed to numerous research studies in the field of cosmetic plastic surgery. Notably, his body of research has focused on wound healing, cryolipolysis (the technology behind CoolSculpting®), rhinoplasty (nose reshaping), and breast reconstruction.
Qualifications & Professional Associations
Dr. Orlando is passionate about staying abreast of advances in the field of cosmetic plastic surgery, and holds himself to the highest standards within the profession. He is an active member of the American Medical Association, and he is a candidate for active membership in the American Society of Plastic Surgeons (ABPS) and the American Society for Aesthetic Plastic Surgery (ASAPS). He holds medical licensure in both California and Oregon.
Outside of the O.R.
When Dr. Orlando is not consulting with patients or scrubbing in at our AAAASF-accredited surgery center, he is passionate about spending time recharging in nature with his camera in tow. An avid traveler, he loves to explore new landscapes with a hike or spend time on the water. He enjoys staying physically active, and partaking in the art, cultural, and food scenes.
Dr. Orlando, in his own words
"My dad came from Europe back in the 1950's. My mom was born here, a second generation New Yorker. They settled together in the Midwest, which is where I was born and grew up. My dad worked in the steel mills, my mom worked in the public school system, and I have an older sister. The two of us were the first in our family to receive a four-year college education.
I was considering either medicine or studying at an art institute. I ultimately decided to pursue dual degrees in biology and psychology in college with the intent of ultimately enrolling in medical school.
When I started to take pre-med classes, I thought to myself, 'I know I'm drawn to the arts. I need to be doing something in that realm and work/create with my hands.' So I decided to shadow several surgeons in the area. One of them happened to be a plastic surgeon focused on elective cosmetic surgery.
I was in awe of the transformation on the operating room table in as little as 45 minutes. It appealed to my aesthetic eye as well as my scientific mind, and I decided to pursue plastic surgery.
After college, I took a position working in an inpatient psychiatric facility because I have always been drawn to human behavior and psychology. The experience of working alongside other medical professionals and patients demonstrated to me the importance of relationships to my job satisfaction. As a plastic surgeon, the patient-doctor relationship lays the foundation of every procedure I perform.
Skillfully and artistically performing a cosmetic procedure not only changes the patient's physical appearance, but also the way they perceive themself in a positive way. Throughout my medical training I experienced multiple surgical specialties. When I encountered plastic surgery, I thought, 'Wow! This profession marries psychology and art…I am hooked!' I completed my aesthetic surgery fellowship in 2016 and cosmetic plastic surgery has been my focus since that time.
During the initial consultation, our time together is best spent discussing your surgical expectations. If I am able to help achieve those goals, I will partner with you in an effort to do so. As with any relationship, honesty is very important to the flow of communication. If I feel that I am unable to meet your needs or effectively collaborate with you, I will have that conversation with you. I take a 'we can do this' approach to every patient. This includes educating you on not only my surgical technique, but how you, as the patient, can promote an early and healthy recovery process. By giving you my undivided attention, we will work together as a team to achieve your goals in a highly collaborative and rewarding process for both of us."
To schedule your personal consultation with Dr. Orlando, contact us today!