Meet Amie Miller, MD
Plastic surgeon in Granite Bay, CA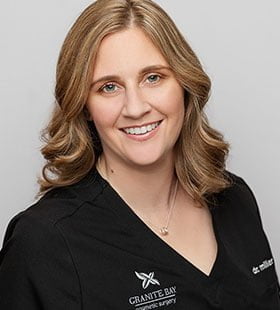 Dr. Miller is proud to be a female plastic surgeon providing outstanding care and natural-looking results for her patients. In her view, plastic surgery is about taking away a patient's frustration, fear, or discomfort, allowing them to focus on what matters most. Dr. Miller's patients can expect a down-to-earth surgeon who listens to their needs, lays all of their options on the table, and offers straightforward advice to help guide them toward results that they'll more than love.
Cosmetic Procedures Dr. Miller Offers
Dr. Miller performs the full scope of cosmetic procedures, from facelift to tummy tuck. Facial procedures she offers include eyelid lift, neck lift, face lift, brow lift, and rhinoplasty. She offers breast procedures, as well, including breast augmentation, lift, and reduction; implant exchange and removal; and male breast reduction. Dr. Miller also offers body contouring surgery including mommy makeover, tummy tuck, liposuction, and body lift procedures.
Dr. Miller Offers Painless, Nonsurgical Ear Remodeling for Infants
For infants born with irregularly shaped ears, Dr. Miller is one of very few doctors offering EarWell®, a nonsurgical, pain-free mold that can prevent the need for surgery later on.
Education & Research
Dr. Miller graduated magna cum laude from the University of North Dakota with a B.S. in Biology and attended medical school at Medical College of Wisconsin in Milwaukee. Going above and beyond the basic requirements, Dr. Miller went on to complete two residencies: a general surgery residency at Wright State University in Dayton, Ohio, and a plastic surgery residency at the University of Tennessee Health Science Center in Memphis.
She then went on to even more specialized training, completing a craniofacial fellowship with the prestigious Dallas Plastic Surgery Institute. There, she focused on craniofacial anomalies in children, as well as cosmetic procedures including facelift and rhinoplasty.
She is also an accomplished researcher, dedicating part of her training to work on National Institute of Health (NIH)-sponsored projects as a Harvard research fellow, and authoring multiple papers.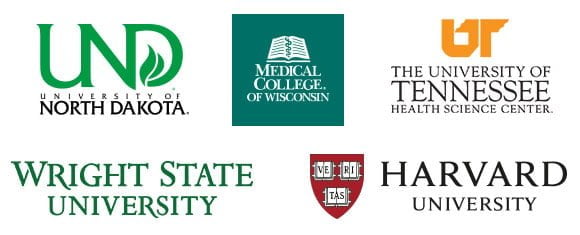 Qualifications & Professional Associations
Dr. Miller holds a record of beautiful surgical results, high standards of safety, and volunteerism throughout her career as a surgeon. Having performed outstandingly as a student, resident, and surgical fellow, Dr. Miller has earned membership in the American Society for Surgery of the Hand (ASSH) and the American Society of Craniofacial Surgeons (ASCFS).

Dr. Miller Outside of the Operating Room
With a background as a high school water polo player and college intramural ice hockey player, Dr. Miller is an accomplished mountain biking and cyclocross competitor. When she's not in the operating room, she and her husband hit the trails on their bikes or stay home with their two rescue animals, an orange cat and a Great Dane.
Originally from San Diego, Dr. Miller has lived all over the country for medical residencies and fellowships. Everywhere she goes, she gets involved in the community. In the past, she has volunteered as an EMT, worked at a free clinic, and even worked with professional therapy dogs. In 2020, she left Dallas to return to California for her "dream job" at Granite Bay. We're so happy to have Dr. Miller here so she can focus on her passion for cosmetic plastic surgery and enjoy the trails in her free time!