EarWell Ear Molding
EarWell™ is a safe, reliable, non-surgical solution for infant ear deformities.
Ear deformities can take various forms, from protruding ears to constricted ears to overly-large ears. Between 15% to 29% of all infants in the U.S. are born with ear deformities, and these can cause embarrassment and hearing issues if left untreated. Thankfully, infant ear deformities are highly treatable during a child's first 4 weeks using the EarWell™ ear molding device.
What is EarWell?
EarWell is a non-surgical procedure that uses a silicone ear mold to safely correct ear deformities of the outer ear (known as "congenital ear deformities") in infants under the age of 4 weeks old. With a 90% success rate based on thousands of clinical cases, EarWell is incredibly effective.
Why treat infant ear deformities?
Ear deformities affect a child's physical appearance and have the potential to impact their hearing. While ear deformities can correct themselves over time (about 30% of cases self-correct), taking a "wait and see" approach can be dangerous, as the deformity can worsen.
EarWell is applied to a child's ear within their first 4 weeks because this is when the ears are most supple and malleable; after this 4-week window, the ears become more rigid, and surgery becomes the safest and most effective solution for treating the ear deformity. Treating your infant within their first 4 weeks with EarWell can reduce the risk of hearing issues and the need for surgical correction later on.
How does EarWell treat infant ear deformities?
EarWell is an easy and painless non-surgical procedure that is performed in the comfort and safety of our cosmetic surgery office. There is no anesthesia, needles, or incisions required. Your child will wear the fitted ear mold 24/7 for about 6 to 8 weeks, visiting our office for a re-fitting every 2 weeks, for a total of 5 office visits. After the treatments, your child's ear will be normally shaped.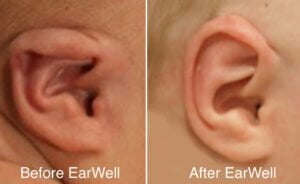 After 6 to 8 weeks of EarWell treatment, your child's ears will be normally shaped.
Is my child eligible for EarWell?
If your infant is 4 weeks old or younger and has a congenital ear deformity, they are eligible for EarWell ear remodeling. Contact board certified plastic surgeon Dr. Miller today to learn more about EarWell.
How much does EarWell cost in Granite Bay?
EarWell typically costs between $3,000 to $5,000, depending on the severity of your child's ear deformity. While EarWell is typically not covered by insurance, it can prevent the need for costly surgery down the road.
Schedule your Granite Bay EarWell procedure today
Board certified female plastic surgeon Dr. Amie Miller is an expert at correcting infant ear deformities using EarWell, and even worked alongside EarWell's creator at the Dallas Plastic Surgery Institute. Contact Dr. Miller online or call (916) 242-2662 to schedule your Granite Bay, CA EarWell consultation today.