Getting to Know Dr. Annika Meyer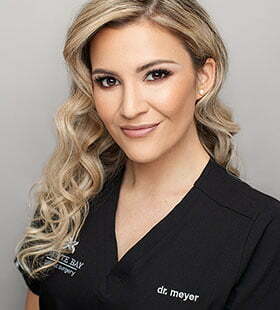 Our fellowship-trained facial plastic surgeon, Dr. Annika Meyer, has meticulous surgical technique and a keen eye for restoring youthfulness in the aging face. With an affinity for listening, Dr. Meyer can help you find the perfect combination of procedures to provide a lasting confidence boost.
For today's blog, we're giving you a peek into what this active, fun-loving, and well-read surgeon is like outside the operating room. Read on to learn what inspires Dr. Meyer and the surprising things she likes to do in her free time!
What do you love most about your job as a facial plastic surgeon?
The best part of being a surgeon is getting to know my patients—their lifestyle, what they want from their procedure, and what brought them to the consultation. No two people are alike in what motivates them to consult with a plastic surgeon, whether they're coming in with a concern they want to address, or they are asking for a very specific treatment. After getting to know their thoughts and feelings, it is incredibly gratifying to make a treatment plan and see them through it.
What makes you different from other facial plastic surgeons?
I strive for natural-looking results, and to accomplish this, my surgical approach often combines non-surgical and surgical options. All the nonsurgical tools that are available, such as injectable filler and skin resurfacing treatments, can be used to complement surgical procedures.
For instance, after certain patients have undergone a facelift, I can extend and even enhance their results with precise injectable treatments and/or microneedling with RF skin tightening. People say that surgical results "last" a certain number of years, but you needn't undergo another procedure for a long time if you invest in nonsurgical upkeep. What's key is working with a surgeon who understands facial anatomy and is experienced with a full range of treatments.
What inspired you to pursue the specialty of facial plastic surgery?
I was inspired to pursue facial plastics during surgical training in residency, when I saw how a minor change to the face can lead to a dramatic—even life-changing—boost in a patient's confidence.
It was also clear that this is my calling because of how interested I am in everything to do with the anatomy and physiology of the face. I love to educate patients about the many ways that form and function intersect, such as the way that a rhinoplasty can help someone with a deviated septum breathe better while also straightening the appearance of their nose, or the way that Botox can help alleviate TMJ when injected into the masseter muscle while also slimming the face.
What's your favorite thing about living in Granite Bay?
I love to be outdoors, and California offers so much of that. I also love to golf and run—I ran two half marathons last year. I'm looking forward to doing more hiking, camping, and snowboarding, now that I'm so close to Tahoe.
I grew up in Fremont, in the Bay Area, and I love that Granite Bay is just a short drive from my old friends and family. My fiancée is really into wine, so we've also been going to Napa and Sonoma a lot since we've been here, checking out all the wineries.
What were you like as a kid?
I used to dance, play basketball, and read. I still like to read in my free time. My favorite book is probably War and Peace. Right now, I'm reading all of Jane Austen.
How have you passed the time during stay-at-home orders?
We got a kitten in March, right at the beginning of quarantine, which was the best decision ever. Her name is Pom Pom, and she is a Russian Siberian cat—which is, fun fact, a hypoallergenic breed. She is super sweet and mischievous, and definitely keeps us entertained. You're not supposed to be able to train cats, but I taught her how to high five.
Learn more about Granite Bay facial plastic surgeon, Dr. Annika Meyer
Dr. Annika Meyer trained as a resident at Mount Sinai Hospital before pursuing a fellowship in facial plastic surgery through the American Academy of Facial Plastic and Reconstructive Surgery. At Granite Bay Cosmetic Surgery, she performs the full scope of facial cosmetic procedures, including eyelid and brow surgery, facelift, necklift, and otoplasty, as well as injections with Botox and dermal fillers. Read more about Dr. Meyer here, or schedule a consultation by contacting our practice online or calling (916) 242-2662.