Getting to Know Dr. Amie Miller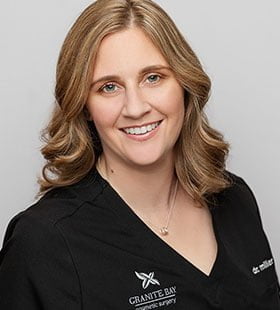 Plastic surgeon Amie Miller, MD joined Granite Bay Cosmetic Surgery via the Dallas Plastic Surgery Institute, where she completed a craniofacial surgery fellowship—an additional level of training beyond her two residencies in general and plastic surgery. We are thrilled to have this knowledgeable and versatile surgeon joining our practice.
Today, we're sitting down with this hard-working, down-to-earth gal (and our favorite brainiac) to learn more about how she became the person she is today.
What is your philosophy of plastic surgery?
I take pride in empowering my patients by actualizing a vision they have for themselves. Cosmetic surgery is not about making people look like models, but rather about taking away the frustration, fear, or discomfort that they live with every day.
What are your favorite procedures to perform?
I really enjoy procedures that are the most life changing for people: breast reductions and abdominoplasties. Those seem to have some of the biggest impacts on peoples' lives, and I love being a part of their transformations.
For nonsurgical procedures, EarWell® is my favorite. EarWell is a non-surgical, painless treatment for newborn ear deformities, and it prevents the need for children to have more significant surgery down the road. I love seeing the look on parents' faces when they see that their infant's ears now look normal. Bullying is such a difficult part of childhood, and any way I can prevent that matters. There aren't many practices offering this in the Sacramento area, so I am happy to be able to include EarWell in my repertoire at Granite Bay.
What is it like being a female plastic surgeon when you are 1 out of 5?
It's no secret that being a woman in a field that is traditionally majority male has its challenges. However, I have been lucky to have some really great female mentors and cohorts that inspire me daily. I really enjoy being a female plastic surgeon, and I think that as women we can bring a different perspective to medicine. Considering that, in aesthetics, 92% of our patients are women, I think it's important they can have someone to go to who understands their anatomy. I also hope to serve as a role model for any woman wanting to pursue a surgical career—I hope to show them that it is possible.
What is it like to be part of an all-female plastic surgery practice?
It's about as close to my dream job as I could have imagined. I had always liked the idea of moving back to California, especially northern California, due to the abundance of outdoor activities (and less traffic). So when the opportunity to work with the team at Granite Bay Cosmetic Surgery came up, I was so excited. It feels like fate.
In such a male dominated field, it is unique to have a group composed entirely of female surgeons, and I feel very lucky to be a part of that. It is so refreshing to be part of a group who all support each other and the overall mission to provide great care to the people in our community.
What is your favorite thing to do outside the OR?
I love just spending time with my husband and pets. Usually we are outdoors hiking or biking or taking our R-Pod camper out for the weekend. We are also avid cyclists, and you can often catch us at a local race trying to take home a win for the team.
What were you like growing up?
I grew up in San Diego and come from a long line of teachers (no one else in my family has pursued medicine, aside from one cousin who is a physical therapist). In high school I was a band nerd and a jock, participating in varsity swim and water polo. For my senior project, I trained a guide dog puppy.
Would you consider yourself a "girly" girl?
I have always been more of a "tomboy." Growing up, I was usually surfing with the guys or even playing on an all male ice hockey team. But I have plenty of "girly" hobbies including horseback riding and dog training—and I played the flute throughout high school and college.
How did you get into playing ice hockey?
I really wanted to keep playing water polo during college in North Dakota, but when I got there and asked them about a team, they said, "Is that where you put the horses in the pool?" So when I figured out that wasn't going to happen, they got me into ice hockey. I learned to skate and joined my friends on a city team where I was the only girl in the whole league. I played with the boys throughout college, and I also played during medical school in Wisconsin.
Do you have a Netflix binge or guilty pleasure?
I love a good drama like Ozark, The Handmaid's Tale or The Crown, or comedies such as Nailed it or The Ranch. But my guilty pleasures are Botched, Below Deck, and any true crime documentary.
Are you more of a cat person or a dog person?
My husband and I have both, and they are rescues—don't shop, adopt! We have a very feisty orange cat, and a not-so-feisty but very large Great Dane. I've always loved horses but never had the chance to own one, so my family jokes that the Great Dane was my way around that.
To answer the question: I love having a dog to take hiking, plus they are just so loyal and loving all the time, without judgement. But having a cat curl up on your lap after a long day at work is pretty amazing, too.
Learn more about Dr. Amie Miller, female plastic surgeon in Granite Bay
Dr. Miller performs the full scope of cosmetic procedures, from facelift to tummy tuck. Facial procedures she offers include eyelid lift, neck lift, face lift, and brow lift. She offers breast procedures, as well, including breast augmentation, lift, and reduction; implant exchange and removal; and male breast reduction. Dr. Miller also offers body contouring surgery including mommy makeover, tummy tuck, liposuction, and body lift procedures.
Ready to start the conversation with Dr. Miller? Schedule a personal consultation by contacting our practice online or calling (916) 242-2662.